Posted by
Kemberlee Kaye
Monday, June 4, 2018 at 9:00pm
| 6/4/2018 - 9:00pm
"They disagree with their President because he insists that they proudly stand for the National Anthem, hand on heart, in honor of the great men and women of our military and the people of our country."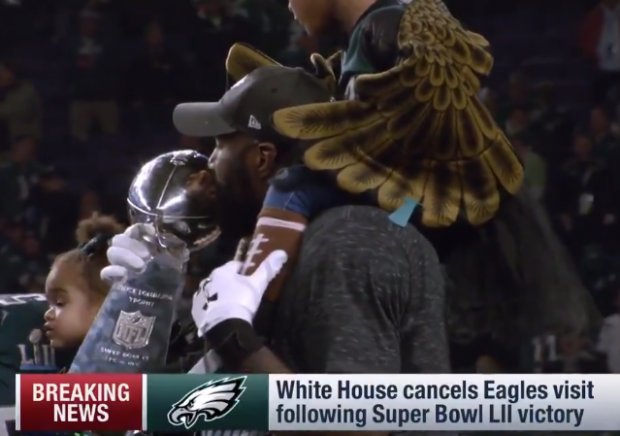 Monday, the White House released a statement saying announcing the Super Bowl-winning Philadelphia Eagles won't be joining the President at the White House to celebrate their victory.
Citing the kneeling controversy, the WH statement said Eagles fans deserve more than a partial delegation. In language sounded exactly like Trump, the statement said, "they [Eagles] disagree with their President because he insists that they proudly stand for the National Anthem, hand on heart, in honor of the great men and women of our military and the people of our country. The Eagles wanted to send a smaller delegation, but the 1,000 fans planning to attend the event deserve better."

JUST IN: President @realDonaldTrump disinvites Philadelphia @Eagles to the @WhiteHouse pic.twitter.com/qNC5mUi9hf

— Fox News (@FoxNews) June 4, 2018
Statement here: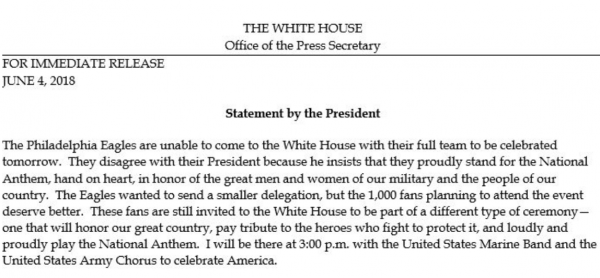 According to a reporter for the NFL Network, The Eagles owner didn't want to put players who were pro-kneeling in a tough spot and decided to side-step the issue by sending a small group of players to represent the team.
The Eagles held meetings with their players in recent weeks and, according to sources, Jeff Lurie didn't want to put the players in a tough spot so he decided to send a smaller contingent. Other players were going to have an optional day at the facility. Now, no trip to D.C.

— Mike Garafolo (@MikeGarafolo) June 4, 2018
Details on why the Eagles made their decision to send a smaller contingent, leading to Trump pulling the plug on the visit. pic.twitter.com/k3Adv6LNZy

— Mike Garafolo (@MikeGarafolo) June 4, 2018
Can we stop with the politicize ALL THE THINGS now? It's ruining everything. EVERYTHING.