Posted by
Kemberlee Kaye
Monday, April 2, 2018 at 11:00am
| 4/2/2018 - 11:00am
"DACA is dead because the Democrats didn't care or act, and now everyone wants to get onto the DACA bandwagon… No longer works."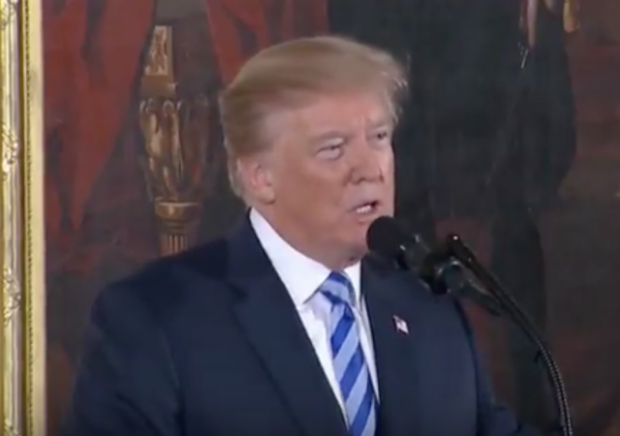 Monday morning, Trump unleashed a round of tweets blaming Mexico and the Democrat party for contributing to America's Dreamer crisis, picking up a thread he began Sunday on the same subject.
DACA (Deferred Action for Childhood Arrivals), the controversial policy created extralegally by President Obama, was rightly kicked to the legislature to legally codify protections for individuals who were brought to the U.S. as children without any legal immigration status.
Late last week, it was reported that a "caravan" of close to a thousand Central Americans were marching through Mexico and onward to the southern U.S. border. Their goal is "to cross our border by seeking asylum, crossing illegally, or by exploiting the ongoing "catch and release" policy," Fuzzy Slippers blogged Sunday.
Sunday, Trump tweeted.
Border Patrol Agents are not allowed to properly do their job at the Border because of ridiculous liberal (Democrat) laws like Catch & Release. Getting more dangerous. "Caravans" coming. Republicans must go to Nuclear Option to pass tough laws NOW. NO MORE DACA DEAL!

— Donald J. Trump (@realDonaldTrump) April 1, 2018
Mexico is doing very little, if not NOTHING, at stopping people from flowing into Mexico through their Southern Border, and then into the U.S. They laugh at our dumb immigration laws. They must stop the big drug and people flows, or I will stop their cash cow, NAFTA. NEED WALL!

— Donald J. Trump (@realDonaldTrump) April 1, 2018
These big flows of people are all trying to take advantage of DACA. They want in on the act!

— Donald J. Trump (@realDonaldTrump) April 1, 2018
And then picked up where he left off Monday morning:
Mexico has the absolute power not to let these large "Caravans" of people enter their country. They must stop them at their Northern Border, which they can do because their border laws work, not allow them to pass through into our country, which has no effective border laws…..

— Donald J. Trump (@realDonaldTrump) April 2, 2018
…Congress must immediately pass Border Legislation, use Nuclear Option if necessary, to stop the massive inflow of Drugs and People. Border Patrol Agents (and ICE) are GREAT, but the weak Dem laws don't allow them to do their job. Act now Congress, our country is being stolen!

— Donald J. Trump (@realDonaldTrump) April 2, 2018
DACA is dead because the Democrats didn't care or act, and now everyone wants to get onto the DACA bandwagon… No longer works. Must build Wall and secure our borders with proper Border legislation. Democrats want No Borders, hence drugs and crime!

— Donald J. Trump (@realDonaldTrump) April 2, 2018
Mexico is making a fortune on NAFTA…They have very strong border laws – ours are pathetic. With all of the money they make from the U.S., hopefully they will stop people from coming through their country and into ours, at least until Congress changes our immigration laws!

— Donald J. Trump (@realDonaldTrump) April 2, 2018
When the Trump Administration announced the cancellation of DACA, they indicated they would support legislation that provided similar protections. A legislative deadline of March 5 was set. That deadline has come and gone and Congress has yet to act.
During the Omnibus Spending Bill press conference, Trump lashed out at Democrats for refusing to include DACA protections among the bill's hodgepodge of provisions, accusing them of political posturing.