Posted by
Mary Chastain
Thursday, April 19, 2018 at 1:00pm
| 4/19/2018 - 1:00pm
"Today we are here to remember those who were lost, to pray for those families that suffered, to express our deepest gratitudes to those who helped, and let them know we will always remember."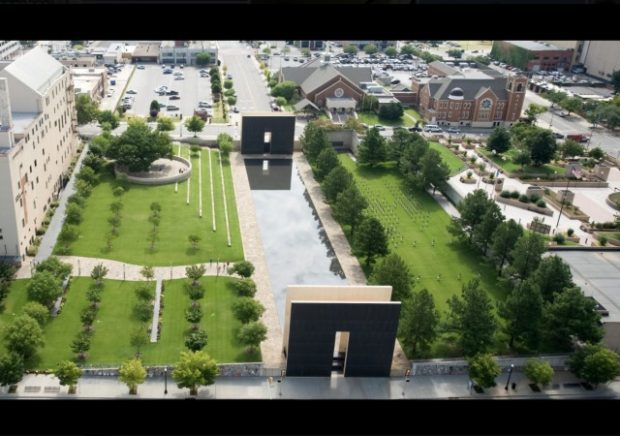 Oklahoma City, OK, changed 23 years ago today when an explosion happened at the Alfred P. Murrah Federal Building at 9:02AM. It killed 168 people, including 19 children and three unborn children.
Every year, we hold a ceremony at 9AM at the OKC Memorial to remember and mourn those we lost.
Every single year, we hold a ceremony at the OKC National Memorial Museum to remember that tragic day and those we lost.
At 9:02AM we hold 168 seconds of silence in honor of those who died.
168 seconds of silence to remember the 168 people killed 23 years ago. #WeRememer. pic.twitter.com/f3qNGukOfK

— OKC Memorial (@OKCNM) April 19, 2018
We also read the names of all 168 victims.
"Today we are here to remember those who were lost, to pray for those families that suffered, to express our deepest gratitudes to those who helped, and let them know we will always remember." – Governor Mary Fallin. #WeRemember pic.twitter.com/9PgQ0fzdij

— OKC Memorial (@OKCNM) April 19, 2018
At this ceremony, we also remembered the late Billy Graham, who hopped on a plane and flew to OKC even though he was battling the flu at the time. He stood with the city and provided the much needed spiritual support Oklahomans needed at the time. From the OKC Museum:
"When we called to ask Rev. Graham to come, he made an enormous effort to be with us as he had been in bed all week with what the doctors believed was the flu. Nonetheless he hopped on a plane with his lovely wife Ruth and his son Franklin and arrived early enough to visit the site. At that time he met with the rescue workers, volunteers and family members in an effort to bring them comfort and to reach out in faith unlike anyone else could. The next day at the prayer service, it was miraculous to see such an infirmed man, clearly weakened by the previous weeks illness, rise to the occasion with such enormous strength and conviction and fill our hearts and our souls with the power of faith, hope and love which helped not only each of us, but our city and state begin to heal", said former First Lady and organizer of the event Cathy Keating. "He will forever be in our hearts."

In an interview in 2012, Mr. Graham he said he was humbled the Memorial asked to inscribe his words at the Memorial. "It certainly reflects my deepest feelings, and the feelings of millions of Americans as they remember what happened here. I saw people in Oklahoma and around the country turning to God in renewed faith and trust. It was true for me as well."

He continued…

"One of my lasting memories will always be the opportunity I had to meet and pray with some of the families who had lost loved ones, and also with some of the survivors to hear their stories – some of which were truly remarkable. After the prayer service, President Clinton and I slipped away to meet privately with them, and it was very moving. I was struck by the President's heartfelt concern; he couldn't have been more sincere and more consoling," Graham recalled.
Here is a video of Graham at a memorial service after the bombing:
The OKC Memorial Museum opened 20 years ago, but technology has helped the museum evolve and keep the memory of those we lost going. It also helps people not forget what happened on April 19, 1995.
The memorial's Facebook page posts a picture and biography every year on a day of a victim's birthday. Executive Director Kari Watkins said the museum has received an "overwhelmingly positive" response to the posts and the ability to do this allows "people who can't actually come to the memorial to get a sense of who these people were."
No matter what. We will always remember. We will always remember and be forever thankful to those first responders and medical personnel who ran into the fire to help and save those who needed it.
#WeRemember 168 people, including 18 children and three unborn children. 380 injured. pic.twitter.com/wC4MMtDt9q

— Mary #FlyTheW (@mchastain81) April 19, 2018
#WeRemember & are forever thankful to those who ran into the building to help those in need. Heroes. pic.twitter.com/RGLCnaKl17

— Mary #FlyTheW (@mchastain81) April 19, 2018
Cops wrote this on their cars in the aftermath. It is true. We will never forget and #WeRemember pic.twitter.com/RwOmCTGVzm

— Mary #FlyTheW (@mchastain81) April 19, 2018