Posted by
Kemberlee Kaye
Monday, April 30, 2018 at 12:50pm
| 4/30/2018 - 12:50pm
"We're going to show you Iran's secret nuclear files"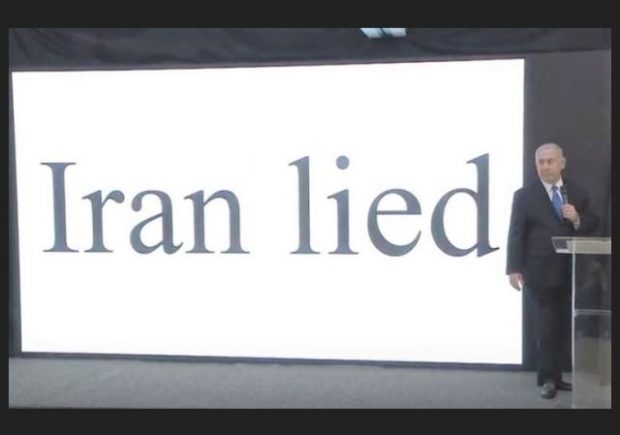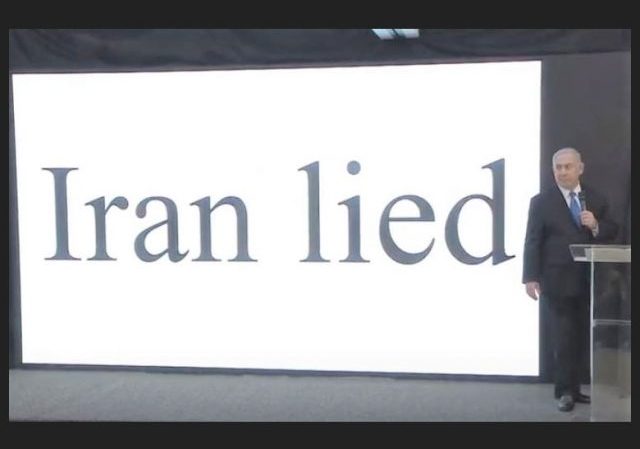 Reports indicated "Israeli intelligence uncovered a huge amount of new and dramatic information on the Iranian nuclear program."
Israeli Prime Minister Benjamin Netanyahu made a public announcement at 1:00 PM ET to discuss these findings (or as much as can be made public) and indicated he shared the intel with the US.
Mossad managed to obtain a half ton of original documents germane to Iran's nuclear program. Incredibly. Documents revealed Monday explain how Iran continued nuclear weapons development using different organizations.
The timing of the announcement is… interesting. Newly minted Secretary of State Mike Pompeo arrived in Israel hours ago and President Trump is supposed to make his own announcement on the contentious Obama-era Iran nuke deal in twelve days.
Iran was quick to downplay the announcement before it was given: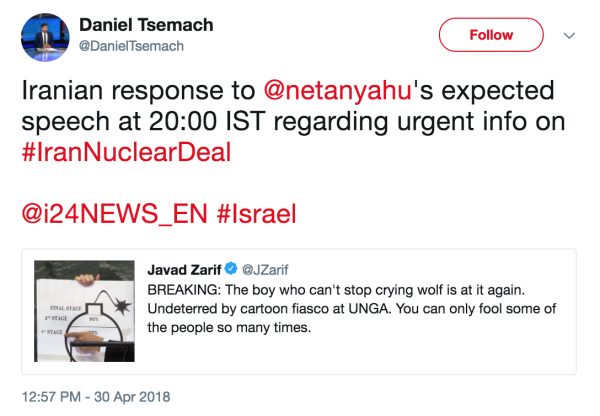 Watch Netanyahu here:
PM Netanyahu concluded:
1.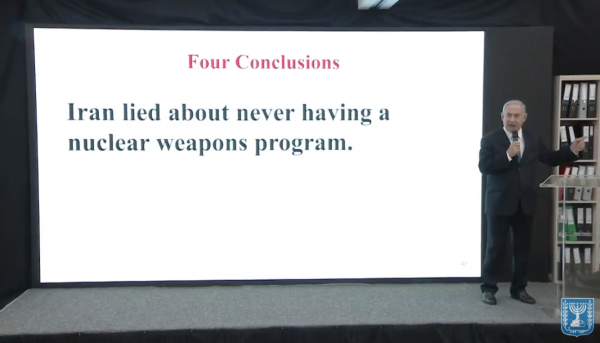 2.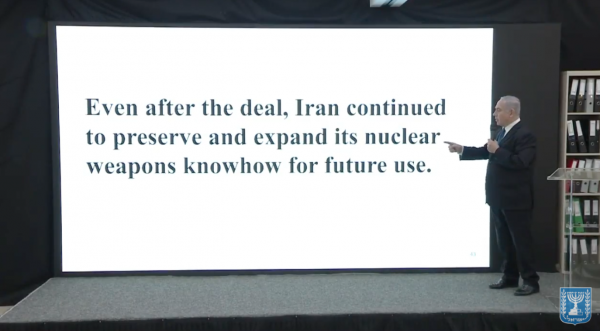 3.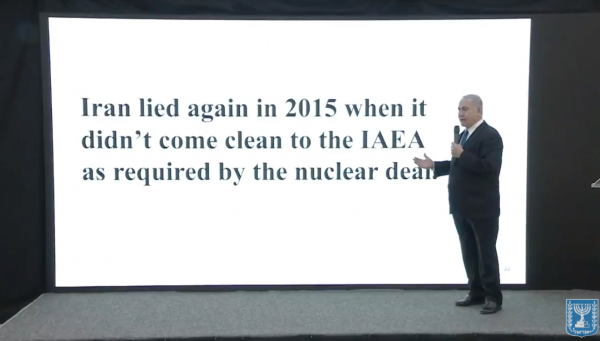 4.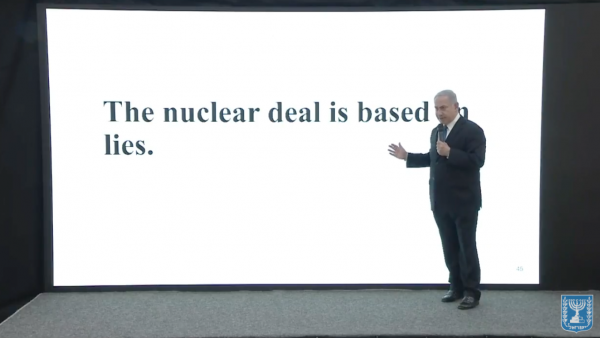 Some highlights:
BREAKING: Netanyahu: 2017 Iran moved nuke secret weapons files to Shorabad district secret location. Weeks ago Israeli mossad found half ton material inside these worlds. 55,000 pages in 183 safes.

— Yonah Jeremy Bob (@jeremybob1) April 30, 2018
PM @netanyahu : Israel obtained 55,000 files on 183 CDs of Iranian documentation of Iranian military nuclear program a few weeks ago, including incriminating docs, blueprints, photos and videos of Iran's nuclear programme

— Jeremy Sharon (@jeremysharon) April 30, 2018
PM @netanyahu : Israel obtained 55,000 files on 183 CDs of Iranian documentation of Iranian military nuclear program a few weeks ago, including incriminating docs, blueprints, photos and videos of Iran's nuclear programme

— Jeremy Sharon (@jeremysharon) April 30, 2018
Whatever you think of @netanyahu the level of intelligence the Mossad has gathered, analyzed and concluded on the Iranian nuclear program is mind blowing.

— LTC (R) Peter Lerner (@LTCPeterLerner) April 30, 2018
Mossad obtained 1/2 ton of docs on Iran nuke program from Iran's most secret location, which means Mullah regime thoroughly penetrated, expect bad things to happen to innocent people as they try to locate who helped Mossad https://t.co/w8wEhSkwAR

— Legal Insurrection (@LegInsurrection) April 30, 2018
PM Netanyahu:

Iran lied about never having nuclear program.

Even after JCPOA they kept the know-how for future use.

Iran lied again in 2015 when it didn't come clean to IAEA

Ian nuclear deal is based on Iran lies & Iranian deception.

The 100,000 files here prove they lied!

— Arsen Ostrovsky (@Ostrov_A) April 30, 2018
Netanyahu says this is a fraction of what was in the files, but there are 4 main conclusions:
1.Iran lied about developing nuclear weapons
2.They kept the program up after the nuclear deal
3.They lied in the IAA reports
4.The entire Iran nuclear deal is based on lies

— Lahav Harkov (@LahavHarkov) April 30, 2018
Ubelievable achievement for Mossad. It got it hands on half ton of original documents and cds from Iran nuclear weapons archives. Lets call NuclearIranleaks. The materials conformed and substantiate all the past suspicions and accusations that if did develop military program

— Yossi Melman (@yossi_melman) April 30, 2018