Posted by
Kemberlee Kaye
Friday, March 23, 2018 at 1:00pm
| 3/23/2018 - 1:00pm
"I say to Congress — I will never sign another bill like this again."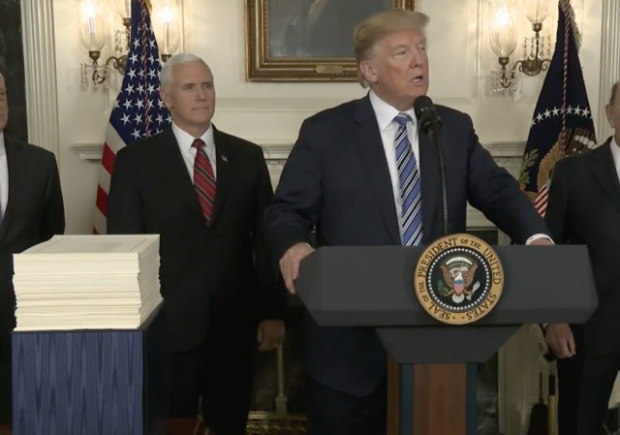 Friday, Trump will hold a press conference on the rotten Omnibus spending bill. The press conference is expected to start at 1:00 PM ET.
Watch here:
Mary covered the bill at length here.
As Sen. Rand Paul described it, the bill is 'rotten'. Every bit of it. Drafted in the dark of night, more than 2,000 pages were given to legislators with less than a day to pilfer through the spending spree before voting on it.
Disappointingly, the Republican Congress passed the bill and Trump is expected to sign it Friday afternoon, though he'd threatened to veto the bill earlier.
Disgrace indeed.
Highlights from the bill signing:
Pres. Trump says "we're going to get on to this ridiculous situation that took place over the last week," ahead of his expected signing of omnibus bill https://t.co/5GwRepDIzr pic.twitter.com/PMEE8AUPtV

— CBS News (@CBSNews) March 23, 2018
"Tell me who can read that quickly," says Pres, pointing to 2,200-page Omnibus Spending Bill., pic.twitter.com/XJoVyag4Ko

— Mark Knoller (@markknoller) March 23, 2018
Pres. Trump: "I say to Congress, I will never sign another bill like this again. I'm not going to do it again. Nobody read it. It's only hours old." https://t.co/5GwRepDIzr pic.twitter.com/vUkuq87695

— CBS News (@CBSNews) March 23, 2018
"I have signed this omnibus budget deal…but we were in a sense forced if we want to have our military" to sign it, Trump says, but he won't do it again

— Jessica Taylor (@JessicaTaylor) March 23, 2018
"We wanted to include DACA, we wanted to have them in this bill…the Democrats would not do it." – Trump on Omnibus.

— Kemberlee Kaye (@KemberleeKaye) March 23, 2018