Posted by
William A. Jacobson
Tuesday, January 30, 2018 at 10:56pm
| 1/30/2018 - 10:56pm
My Quick Take on State of the Union address – taking a positive message directly to the people without the media filter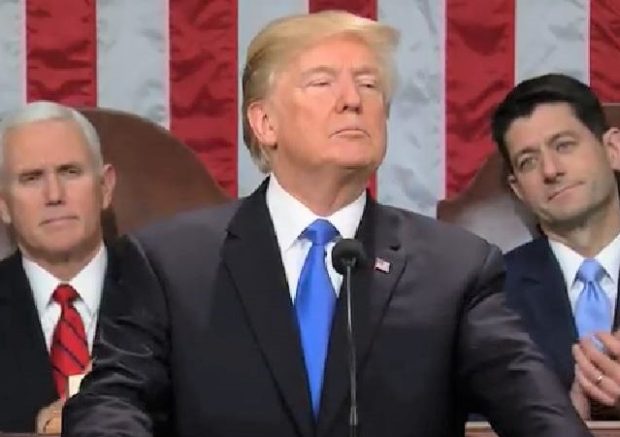 Here's my quick take on Trump's State of the Union address. I'm not going to catalog the speech, just my impressions.
It wasn't a soaring speech. The speech was a catalog of accomplishments and promises of future success. It was very Bill Clintonian in that respect. You could sense Democrats fuming.
I don't know what the "goal" of the speech was, but if it was to take a positive message directly to the people without the media filter, it succeeded.
There will be a takeaway, a line by which the speech will be remembered. That line was "Americans are dreamers too."
Here are my tweets in real time:
"The #SOTU is strong" pic.twitter.com/O2RhKutAAk

— Legal Insurrection (@LegInsurrection) January 31, 2018
Wonder what Bernie's thinking #SOTU pic.twitter.com/JqguUlCff6

— Legal Insurrection (@LegInsurrection) January 31, 2018
You just know Gorsuch wanted to crack a yuge smile when Trump mentioned SCOTUS appointment #SOTU pic.twitter.com/zJirdO0joj

— Legal Insurrection (@LegInsurrection) January 31, 2018
Heartbreaking #sotu pic.twitter.com/BKe54tMrdT

— Legal Insurrection (@LegInsurrection) January 31, 2018