Posted by
Kemberlee Kaye
Tuesday, December 26, 2017 at 4:00pm
| 12/26/2017 - 4:00pm
"United has NOT apologized. Man at call center, answering my form complaint, said he was very sorry, but far from written apology United owes. "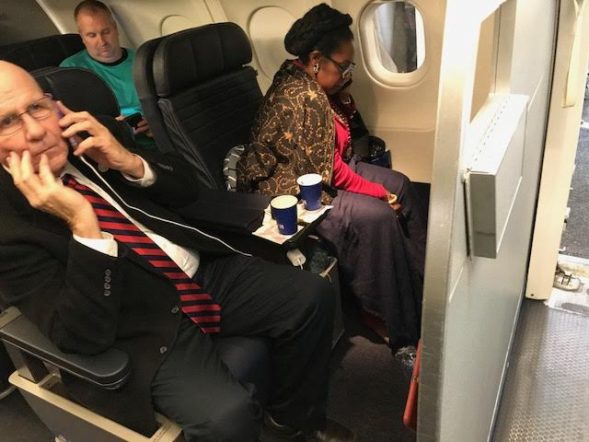 Monday, Professor Jacobson blogged about the plight of Jean-Mario Simon, a woman whose first-class plane ticket was given to Rep. Sheila Jackson Lee.
Simon claims she had to play hardball to get a voucher for her troubles.
The internet responded with empathy and a heavy heaping of racist accusations.
Simon has spent the better part of the last few days trying to correct the record from her Twitter account.
Got voucher only by insisting. United threatened to remove me from plane for taking photo. United manager called me @ home: said United behavior at gate/on plane contra United training. Said taking photos is legal, andaid United will investigate to c who did this to me.

— Jean-Marie Simon (@JeanMarieSimon1) December 24, 2017
Gate agent wanted originally to give me $300. I've seen people get twice that for voluntarily giving up seat on overbooked flights. When I asked for free meal/bev., gate agent said, "And I want a Mercedes Benz, but I'm not going to get it." https://t.co/cYPg5m9WBT

— Jean-Marie Simon (@JeanMarieSimon1) December 24, 2017
There are several stories floating around, like this one from the NY Post saying United apologized to Simon. According to Simon, that's not accurate. She claims United has yet to formally apologize.
SFC + NYP articles claim "apology" from United and $500 as apology wrong. United phone agent apologized, no apology from corporate United. $500 voucher was from exasperated gate agent who originally offered $300 and gave me ultimatum to take the $500 or have plane leave w/o me.

— Jean-Marie Simon (@JeanMarieSimon1) December 26, 2017
United has NOT apologized. Man at call center, answering my form complaint, said he was very sorry, but far from written apology United owes. And $500 voucher was issued at gate right after Untied cancelled my flight, not part of "apology package." @united

— Jean-Marie Simon (@JeanMarieSimon1) December 26, 2017
@united, this problem isn't going away on its own. You need to address things forthrightly, and apologize. https://t.co/NlGU8P6yXb

— Instapundit.com (@instapundit) December 26, 2017
True to form, Jackson played the race card:
I noted that this individual came toward me and took a picture. I heard later that she might have said "I know who she is." Since this was not any fault of mine, the way the individual continued to act appeared to be, upon reflection, because I was an African American woman,

— Sheila Jackson Lee (@JacksonLeeTX18) December 26, 2017
seemingly an easy target along with the African American flight attendant who was very, very nice. This saddens me, especially at this time of year given all of the things we have to work on to help people. But in the spirit of this season and out of the sincerity of my heart,

— Sheila Jackson Lee (@JacksonLeeTX18) December 26, 2017
if it is perceived that I had anything to do with this, I am kind enough to simply say sorry. I understand the airline is working to address the passenger's concerns. I am glad of that. But as an African American, I know there are too many examples like this all over the nation

— Sheila Jackson Lee (@JacksonLeeTX18) December 26, 2017
. I hope one day, we will accept our collective diversity. Happy Holidays." ine, the way the individual continued to act appeared to be, upon reflection, because I was an African American woman, seemingly an easy target along with the African

— Sheila Jackson Lee (@JacksonLeeTX18) December 26, 2017
American flight attendant who was very, very nice. This saddens me, especially at this time of year given all of the things we have to work on to help people. But in the spirit of this season and out of the sincerity of my heart, if it is perceived that I had anything to do

— Sheila Jackson Lee (@JacksonLeeTX18) December 26, 2017
with this, I am kind enough to simply say sorry. I understand the airline is working to address the passenger's concerns. I am glad of that.

But as an African American, I know there are too many examples like this all over the nation.

— Sheila Jackson Lee (@JacksonLeeTX18) December 26, 2017
I hope one day, we will accept our collective diversity. Happy Holidays."

— Sheila Jackson Lee (@JacksonLeeTX18) December 26, 2017