Posted by
Kemberlee Kaye
Monday, December 18, 2017 at 1:05pm
| 12/18/2017 - 1:05pm
Nikki Haley rips into foreign govt's trying to dictate US policy, Israel bias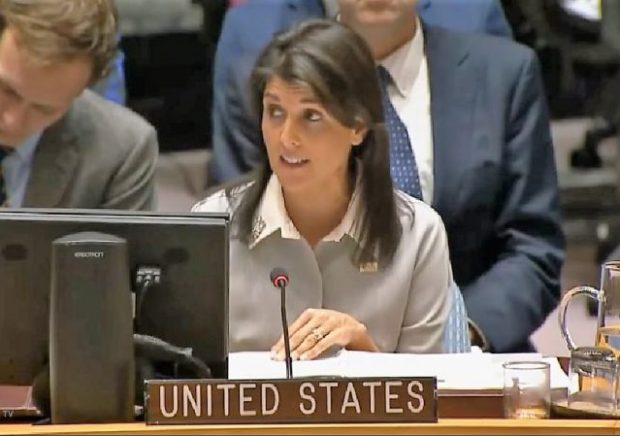 Monday, Nikki Haley ripped into the United Nation Security Council members. The UNSC demanded the United States rescind recognition of Jerusalem as Israel's capital.
The U.S. vetoed the Egyptian-drafted resolution, making the vote 14-1.
US Ambassador, Nikki Haley, was not happy:
Nikki Haley on UNSC vote:"The United States will not be told by any country where we can put our embassy. What we have witnessed here is an insult. It won't be forgotten. It is one more example of the UN doing more harm than good in addressing the Israeli Palestinian conflict."

— columlynch (@columlynch) December 18, 2017
Part of her remarks here:
From Haaretz:
Haley slammed resolution 2334 for the creation of the BDS blacklist, calling it "an ugly creation of the Human Rights Council: the database of companies operating in Jewish communities," and calling the list "yet another obstacle to a negotiated peace." 
Haley said that the UN is "a disproportionately hostile place for the Middle East's most enduring democracy," Israel.

Israeli Ambassador to the UN Danny Danon attacked the proposed resolution saying that "members of the Security Council can vote another hundred times to criticize our presence in Jerusalem, but history won't change. While the Jewish people celebrate the holiday of Hanukkah that symbolizes the eternal connection to Jerusalem, there are people who think that they can rewrite history. It's time for all countries to recognize that Jerusalem always was and always will be the capital of the Jewish people and the capital of Israel."

He further added that "each country has the right to establish its own capital, but when it comes to Israel, there are people who think that they can cast doubt on our decision. We are grateful to the U.S. for its steadfastness in standing with the State of Israel, and the truth."

The Palestinian leadership may turn to the UN General Assembly if Washington vetoes the resolution, as expected. The Palestinian United Nations envoy raised this option in remarks published in Saudi daily Arab News on Monday, ahead of a Security Council vote on an Egyptian-drafted resolution about Jerusalem's status which the United States is expected to veto.

The draft says any "decisions and actions which purport to have altered the character, status or demographic composition of the Holy City of Jerusalem have no legal effect, are null and void and must be rescinded".

Trump's December 6 decision to recognize Jerusalem as Israel's capital and to move the U.S. Embassy to the city has provoked widespread anger and protests among Palestinians as well as broad international criticism, including from top U.S. allies.
Israeli Prime Minister Netanyahu was appreciative of America's stance on the resolution:
Thank you, Ambassador Haley. On Hanukkah, you spoke like a Maccabi. You lit a candle of truth. You dispel the darkness. One defeated the many. Truth defeated lies. Thank you, President Trump. Thank you, Nikki Haley. pic.twitter.com/zFIiStoait

— Benjamin Netanyahu (@netanyahu) December 18, 2017