Posted by
William A. Jacobson
Thursday, December 21, 2017 at 9:50am
| 12/21/2017 - 9:50am
How will Trump retaliate?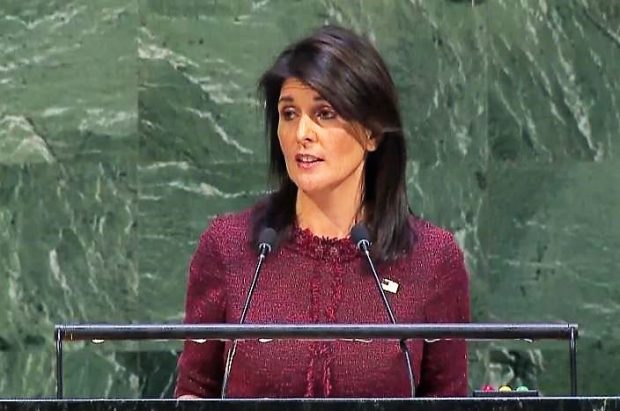 The UN General Assembly is meeting this morning on a resolution that, without mentioning the U.S. by name, condemns Donald Trump's recognition of Jerusalem as Israel's capital and plan to relocate the US Embassy from Tel Aviv to Jerusalem at some future point. The resolution also demands a return to the so-called 1967 lines (which actually are the 1949 Armistice lines), which would put the main Jewish holy sites and the Jewish Quarter in the hands of Palestinians.
General Assembly Resolutions are not binding under UN Rules and do not create international law.
U.S. Ambassador Nikki Haley, backed up by Donald Trump, has promised that the U.S. and Trump take this vote personally, and will be "taking names," as detailed in our prior post, Nikki Haley: "US will be taking names" during General Assembly vote on Jerusalem Embassy move.
Official Palestinian media is portraying Haley as a Vulture (via PalMedia Watch):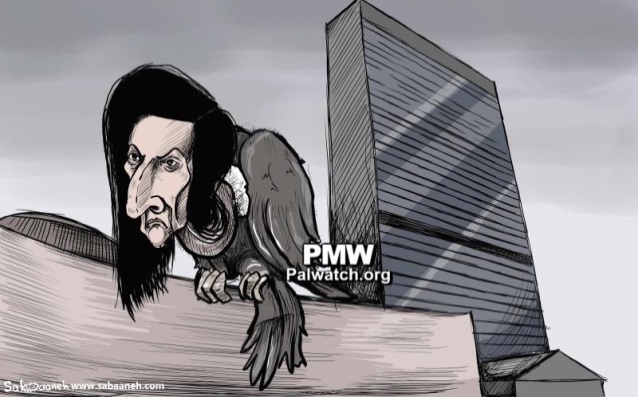 Trump also suggested a cut-off of aid to countries that vote against the U.S.:
The General Assembly almost certainly will vote overwhelmingly in favor of the resolution in a direct slap at Trump. The question is, how will he react. I suggest that Trump immediately redesignate the Jerusalem Consulate as our Embassy, rather than waiting years for planning and construction of a new Embassy.
.@realDonaldTrump @nikkihaley If UN General Assembly votes against USA on Jerusalem recognition, don't get mad, get even — Immediately redesignate US Consulate in Jerusalem as our Embassy

— Legal Insurrection (@LegInsurrection) December 21, 2017
We also should close the PLO office in Washington, D.C., suspend visas for Palestinian Authority and PLO officials, and pass and sign into law the Taylor Force Act, which would suspend aid to the P.A. unless it stopped paying terrorists to kill and maim Israelis.
NIKKI HALEY
MY LIVE TWEETING:
https://twitter.com/LegInsurrection/status/943867288482086914
Palestinian Foreign Minister recounts religious history of Jerusalem, doesn't mention Judaism. Funny that. pic.twitter.com/vl1rdCATpo

— Legal Insurrection (@LegInsurrection) December 21, 2017
.@nikkihaley American govt answerable to American people, don't want to pay to be disrespected at UN. pic.twitter.com/rhyvrGeNzT

— Legal Insurrection (@LegInsurrection) December 21, 2017
.@nikkihaley U.S. will remember this day when we were singled out for attack at UN. "America will put our Embassy in Jerusalem… No vote in the UN will make any difference on that… This vote will be remembered" pic.twitter.com/UkX2SjZp65

— Legal Insurrection (@LegInsurrection) December 21, 2017
Israel Ambassador @dannydanon "Jerusalem is the capital of Israel. Period." pic.twitter.com/KNeHhCrazX

— Legal Insurrection (@LegInsurrection) December 21, 2017
https://twitter.com/LegInsurrection/status/943875030412333058
Israel Ambassador @dannydanon – Irony that worst human rights violators like Yemen are behind this resolution pic.twitter.com/pWb4cZ9av4

— Legal Insurrection (@LegInsurrection) December 21, 2017
Israel Ambassador @dannydanon holds Jewish coin from time of Second Temple – unbreakable bond of Jewish people to Jerusalem pic.twitter.com/xsAjM9rwW0

— Legal Insurrection (@LegInsurrection) December 21, 2017
Israel Ambassador @dannydanon Today's resolution will end up "in the trash bin of history" pic.twitter.com/4DV357qSZa

— Legal Insurrection (@LegInsurrection) December 21, 2017
Venezuela Ambassador whose country is in collapse, people starving, fleeing, brutal repression, speaks on behalf of Non-Aligned Movement against Israel and for resolution against U.S. #screwthem pic.twitter.com/tsEoPCpQK4

— Legal Insurrection (@LegInsurrection) December 21, 2017
Venezuela Ambassador invokes UN Resolution 2334, which Obama let go through, delegitimizing Jewish claim to Jewish holy sites in Jerusalem #ThanksObama Thanks @SamanthaJPower pic.twitter.com/h8fV3Ffk4T

— Legal Insurrection (@LegInsurrection) December 21, 2017
Turkish Foreign Minister, representative of regime engaged in destroying freedom in Turkey, attacks U.S. over Jerusalem. Time for U.S. to recognize an independent and free Kurdistan. pic.twitter.com/vYgU81FXIT

— Legal Insurrection (@LegInsurrection) December 21, 2017
Indonesia Ambassador also brings up UNSC Resolution 2334 – the damage from Obama/Kerry sellout of Israel continues

— Legal Insurrection (@LegInsurrection) December 21, 2017
Just when you thought it couldn't get worse, Ambassador of bloodthirsty Assad regime in Syria speaks against US and Israel – if this doesn't show how UN actually damages peace then nothing will pic.twitter.com/CT76zCzt5l

— Legal Insurrection (@LegInsurrection) December 21, 2017
Cuba endorses statement by Venezuela against US and Israel. What a farce. Today's puppet show demonstrates how UN needs to be brought down in size and influence pic.twitter.com/BGnZm2BHHl

— Legal Insurrection (@LegInsurrection) December 21, 2017
Iran Ambassador joins Cuba, Syria, Yemen, Venezuela, Pakistan in condemning @realDonaldTrump US and Israel. Calling UN a farce is gross understatement. pic.twitter.com/QvrHS79FlK

— Legal Insurrection (@LegInsurrection) December 21, 2017
North Korea invokes UNSC Resolution 2334 which Obama let pass in condemning Trump US and Israel over Jerusalem – NORTH KOREA! pic.twitter.com/fHjJ9xJit8

— Legal Insurrection (@LegInsurrection) December 21, 2017
RESULT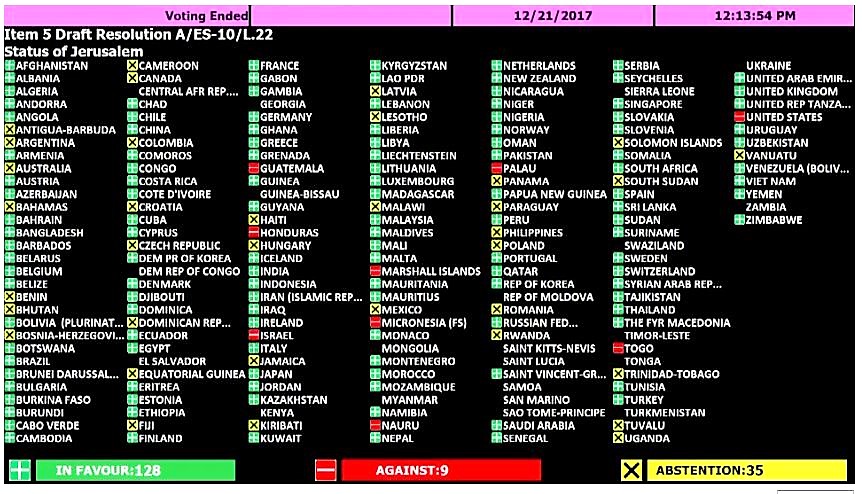 UN General Assembly votes to condemn USA Israel over Jerusalem 128-9-35 — here are the names @realDonaldTrump @nikkihaley pic.twitter.com/LZe4itpuu0

— Legal Insurrection (@LegInsurrection) December 21, 2017