Posted by
Mary Chastain
Saturday, December 9, 2017 at 5:00pm
| 12/9/2017 - 5:00pm
More history! Less aliens!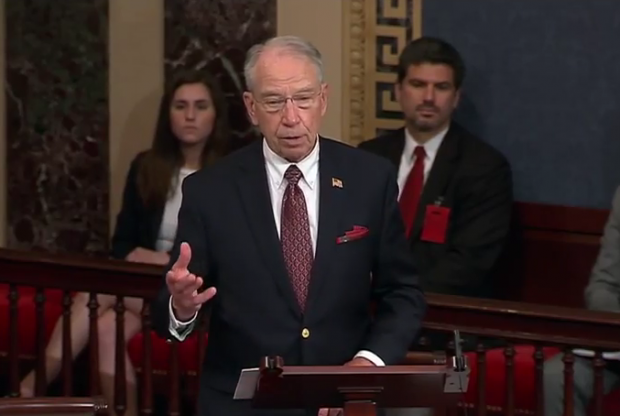 Can anyone blame him?! I yearn for those days when they did shows on WWII and Vietnam all day!
Turned to History Channel "The Curse of Oak Island ". Again no history Change name of channel to"ETC"

— ChuckGrassley (@ChuckGrassley) December 9, 2017
You tell them, Senator!! I was so upset with the lack of Pearl Harbor programming on December 7. Don't even get me started on their programming on D-Day.
As The Hill points out, Grassley has made his feelings known since 2012.
Now w Kennedy FileS being released the HISTORY CHANNEL has opportunity for real history instead of BEING NONHISTORY CHANNEL

— ChuckGrassley (@ChuckGrassley) October 27, 2017
I shld not give up. Staff just notified me there is some history on History Channel So I'm watching Go there quickly

— ChuckGrassley (@ChuckGrassley) July 4, 2017
If u don't like history now is time to go HISTORY CHANNEL and u can watch PAWN STARS

— ChuckGrassley (@ChuckGrassley) December 29, 2016
Ocassionally I turn to History channel hope to c history. Whenevr will the history channel hv a real old fashion histry program

— ChuckGrassley (@ChuckGrassley) January 7, 2012
Just love history. So occasionally I turn to history channel. "mud cats" when wi they put history back on the channel

— ChuckGrassley (@ChuckGrassley) February 26, 2012
History. No history. Axe man Timber Nothing historical. Back to FOX. Sigh. Suggest name to change channel name

— ChuckGrassley (@ChuckGrassley) March 19, 2012
His hatred for the History Channel is well known:
Be careful, Mr. President. you do not want to get in @chuckgrassley's crosshairs. Just ask History Channel, @hyvee or the numerous deer he has mowed down. https://t.co/LcsWfU8y6B

— Eric Michael Garcia (@EricMGarcia) December 7, 2017
Someone should alert @ChuckGrassley that the History Channel is doing history.

— emptywheel (@emptywheel) July 5, 2017