Posted by
Mary Chastain
Sunday, December 31, 2017 at 9:35am
| 12/31/2017 - 9:35am
"We don't want the Islamic Republic, we don't want it!"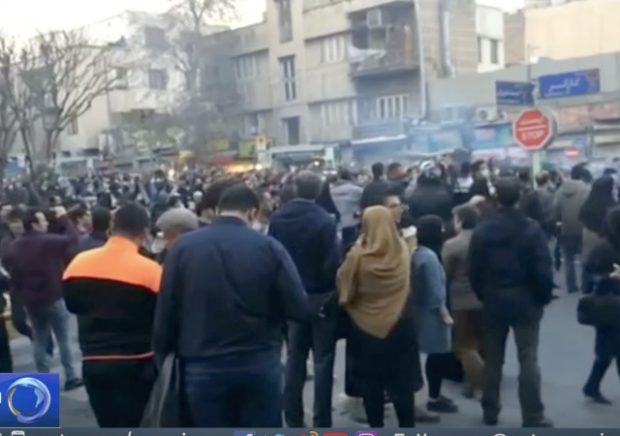 Protests have grown strong in Iran these past three days, reminiscent of the 2009 Green Movement, as people have grown tired of the ruling regime's oppression. From The Wall Street Journal:
Antigovernment demonstrations broke out for a third day across Iran on Saturday, extending some of the country's most widespread street protests in nearly a decade, with protesters demanding an end to the Islamic Republic regime and the rule of Supreme Leader Ayatollah Ali Khamenei.

Video shot from inside Iran and shared with The Wall Street Journal suggest large rallies at dozens of cities across the country.

The protesters seen in those videos bypassed calls for reform and branded both the reformist and hard-line factions of the government as outdated and needing to be replaced.

Working class and labor unions joined the middle class and student activists in dozens of cities and small towns from Tehran to Ahvaz and Qom, a key regime's religious stronghold. In the videos shared with the Journal, protesters were seen chanting "Death to Khamenei," and "We don't want the Islamic Republic, we don't want it" and "Reformist and hard-liners, you are both done."
The regime has tried to deflect blame on foreign powers and anti-revolutionaries for the protests, but WSJ points out that these are just young college students. These protests have plenty of those in the working-class "that traditionally comprise the Islamic Republic's power base," which will make it harder for the regime's excuse to stick.
It's hard to confirm anything since the protests continue to unfold on social media. But the BBC reported that the protests "do not appear to be taking place on a massive scale" since the amount of people taking part in the "range from hundreds in some places to thousands in others."
WSJ continued:
In the capital, at one point more than 100 people were seen gathered outside the gates of Tehran University and chanting slogans including, "Leave Gaza, leave Lebanon, my life for Iran," a critique of spending on Iranian proxies abroad, and "Death to the dictator!" Video distributed on social media showed hundreds of young people at the university shouting slogans against Mr. Khamenei, as security forces stood by.

A few hundred riot police were deployed on nearby roads and blocked access to the university's main gates. Plainclothes police were seen arresting one man near the Tehran University protests Saturday, although it wasn't clear if he had taken part in the demonstrations. Police attempted to disperse the crowd using loudspeakers.

There were reports on social media and from Iranian dissidents about protests in other cities, including Kermanshah in the west and Isfahan in central Iran. The video couldn't be independently verified, and it was difficult to ascertain how large the protests were.

Security forces were dispatched in other cities to disperse crowds and were seen on video using tear gas and batons, but the crackdowns appeared restrained compared with previous uprisings.
Voice of America (VOA) has reported that two people have died in the protests. The outlet stated that it's "Persian service identified the victims as Hamzeh Lashni and Hossein Reshno." A reporter from the outlet spoke with both families.
President Donald Trump and Vice President Mike Pence have shown support for those protesting against the Islamic regime:
Many reports of peaceful protests by Iranian citizens fed up with regime's corruption & its squandering of the nation's wealth to fund terrorism abroad. Iranian govt should respect their people's rights, including right to express themselves. The world is watching! #IranProtests

— Donald J. Trump (@realDonaldTrump) December 30, 2017
The entire world understands that the good people of Iran want change, and, other than the vast military power of the United States, that Iran's people are what their leaders fear the most…. pic.twitter.com/W8rKN9B6RT

— Donald J. Trump (@realDonaldTrump) December 30, 2017
Oppressive regimes cannot endure forever, and the day will come when the Iranian people will face a choice. The world is watching! pic.twitter.com/kvv1uAqcZ9

— Donald J. Trump (@realDonaldTrump) December 30, 2017
.@POTUS & I stand w/ peaceful protestors in Iran who are speaking out for freedom & we condemn the arrests of innocents. The time has come for the regime in Tehran to end terrorist activities, corruption, & their disregard for human rights. #IranProtests https://t.co/PcZMk07RcB

— Vice President Mike Pence (@VP) December 30, 2017
Social Media
As I stated above, the story really comes to life on social media since there is no free press in Iran and the state media is fudging details. In fact, AFP wrote that state news channel IRINN does not have permission to cover the protests.
Here are a few posts from Twitter:
Major protest erupts today in north-east #Iran city of Mashhad against economic corruption & rising cost of living. Angry chants of "Death to Rouhani" & "Death to Dictator". #FreeIran @4FreedominIran pic.twitter.com/5dBgLNSrAj

— M. Hanif Jazayeri (@HanifJazayeri) December 28, 2017
"The mullahs must be killed" "Shame on the Supreme Leader, leave our country alone" "Death to the dictator" – chants on the streets of #Iran's capital Tehran today on Day 3 of #IranProtests. via the MEK's activists. It's clear Iranian ppl want #RegimeChange. #FreeIran pic.twitter.com/gtVlSoxyrR

— M. Hanif Jazayeri (@HanifJazayeri) December 30, 2017
WATCH: Central Tehran tonight, angry ppl tear down photo of #Iran regime's Supreme Leader Ali Khamenei amid chorus of celebration on Day 3 of #IranProtests. via MEK activists. Iranian people want Regime Change. #FreeIran pic.twitter.com/lXq1B2YIMq

— M. Hanif Jazayeri (@HanifJazayeri) December 30, 2017
WATCH: Defiant youths in Mashhad overturn police car. via the MEK network. Today is Day 3 of nationwide #IranProtests calling for regime change in #Iran. Our nation seeks an end to the mullahs' rule. #FreeIran pic.twitter.com/Jyj1QbRTT7

— M. Hanif Jazayeri (@HanifJazayeri) December 30, 2017
Anti-regime protesters in Arak (central #Iran) attack paramilitary Bassij center amid chants of "Death to Khamenei" on Day 3 of nationwide #IranProtests for a #FreeIran. via MEK activists. #No2Rouhani pic.twitter.com/GoLWL4Rkei

— M. Hanif Jazayeri (@HanifJazayeri) December 31, 2017
The guts of this woman. She's refusing to leave protest & says: "I'd rather die right here". #IranProtests pic.twitter.com/UtOETM64oN

— Rita Panahi (@RitaPanahi) December 30, 2017
If you watch the videos of the protests the people are chanting against the mullahs & the Islamic republic. They're chanting death to Rouhani. You can be imprisoned/killed in Iran for such dissidence. https://t.co/e5B3tosd4P

— Rita Panahi (@RitaPanahi) December 31, 2017
A protester in #Iran burns an Iranian flag. This is the version of the flag with the word "Allah" on it which was added to flag after the Islamic Revolution of 1979. #IranProtests #تظاهرات_سراسرى #يحدث_الان_في_ايران #متحد_شویم #IranProtest pic.twitter.com/UCeASRO05w

— Armin Navabi (@ArminNavabi) December 30, 2017
They're chanting: "we don't want, we don't want an Islamic republic"
These protests aren't small & they're not just about economics as CNN & NYT claim. #IranProtests pic.twitter.com/yAJB1erhic

— Rita Panahi (@RitaPanahi) December 30, 2017
Remember, before the 1979 revolution, Iran sort of mirrored the West. But after the revolution, Sharia law took over, which included females wearing hijabs and remaining covered. Some on Twitter shared pictures of females pre-revolution:
Any government ruled by religious clerics is a tarnished and corrupt government.. Iran 1970#Iranprotests pic.twitter.com/TZkdzqf8xW

— Ensaf haidar (@miss9afi) December 30, 2017
Iran women in 1973 #IranUprising #Iranprotests pic.twitter.com/1Eu50bQqkk

— I can't unsee ???? (@noLongerAdem1) December 30, 2017
This is my mum & her friends in Iran before the Islamic revolution. All were professional, independent & free women. pic.twitter.com/4l69RnOmuZ

— Rita Panahi (@RitaPanahi) December 30, 2017
Me before & after the Islamic Revolution in Iran. Had to wear the veil once I started school. Hated it with a burning passion. pic.twitter.com/QUgSmwbB2A

— Rita Panahi (@RitaPanahi) December 30, 2017
For those asking my mum is third from the left in the group pic. She was quite the glamour. This was taken in Tehran during early 70s. #PersianPrincess pic.twitter.com/eMKciHmgs1

— Rita Panahi (@RitaPanahi) December 30, 2017
Courage personified. It's heroic to protest in an Islamic republic where dissidence can be punished by imprisonment, torture & even death. There are reports that protesters have been shot during #IranProtests. pic.twitter.com/PUZzDMrx9j

— Rita Panahi (@RitaPanahi) December 31, 2017
A Twitter List by LegInsurrection