Posted by
Mary Chastain
Monday, November 27, 2017 at 3:00pm
| 11/27/2017 - 3:00pm
The special election is scheduled for December 12.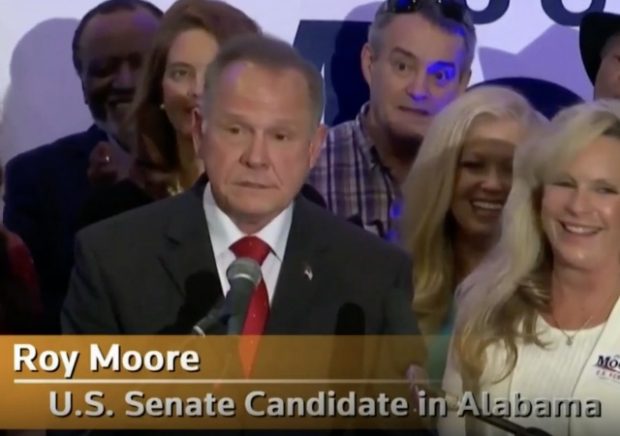 A White House official has said that President Donald Trump will not campaign for Republican Alabama Senate candidate Roy Moore, who has been accused by numerous women of sexual assault when they were teenagers and he was in his 30s.
From AL.com:
The official says Trump will not travel to Alabama on Moore's behalf, despite his public statements doubting the women accusing Moore of sexual assault. The president held the door open to campaigning for Moore last week, when he all but endorsed Moore's candidacy and attacked his Democratic opponent, Doug Jones.

Trump has declined to follow the path of other mainstream Republican leaders, who have called on Moore to step aside. Republican lawmakers are considering expelling Moore should he win the seat.
Trump has used Twitter to lash out at Moore's Democratic opponent Doug Jones.
This news is not that surprising, though. Last week, Lachlan Markay and Asawin Suebsaeng at The Daily Beast reported that this decision came before Trump returned from his Asia trip:
Last week, Trump's top aides were actively trying to figure out the best way for the president to disentangle himself from the toxicity of Moore, a candidate Trump previously praised. At the time, two White House officials told The Daily Beast that it was unclear how Trump and his team would eventually proceed, though campaigning with Moore or formally endorsing his campaign were off the table.

Eventually, the president announced, through press secretary Sarah Huckabee Sanders, that Moore should step aside from the race—if the allegations were true. Senior White House staffers were even more harsh.
The special election will happen on December 12. Alabama Governor Kay Ivey (R) has said that she will not move it and that she will vote for Moore to help the GOP keep the majority in the Senate.
Many Republicans within the Senate have rescinded their endorsements of Moore after the accusations came out. ABC News continued:
Republican Sen. Lindsey Graham of South Carolina said Sunday on CNN's "State of the Union" that when it comes to Moore, it's unclear "what winning looks like."

"If he wins, we get the baggage of him winning and it becomes a story every day about whether or not you believe the women or Roy Moore, should he stay in the Senate, should he be expelled. If you lose, you give the Senate seat to a Democrat at a time we need all the votes we can get," he said, referring to Republicans' current 52-48 majority in the Senate.

"The moral of the story is: Don't nominate somebody like Roy Moore who could actually lose a seat that any other Republican could win," Graham said.

Sen. John Thune of South Dakota, the No. 3 Republican in the Senate, said he'd like to see Trump "come out and support what many of us have said and that is that Roy Moore needs to step aside" and "allow somebody else to be a write-in candidate."

He said on "Fox News Sunday" that if Moore ends up winning, he will be the immediate subject of an ethics investigation, "which is going to be a cloud that he'll be operating in and it's going to be a distraction for us and for our agenda."