Posted by
Mike LaChance
Tuesday, November 28, 2017 at 7:00am
| 11/28/2017 - 7:00am
"evidence that the late Justice Antonin Scalia's legal thinking had triumphed"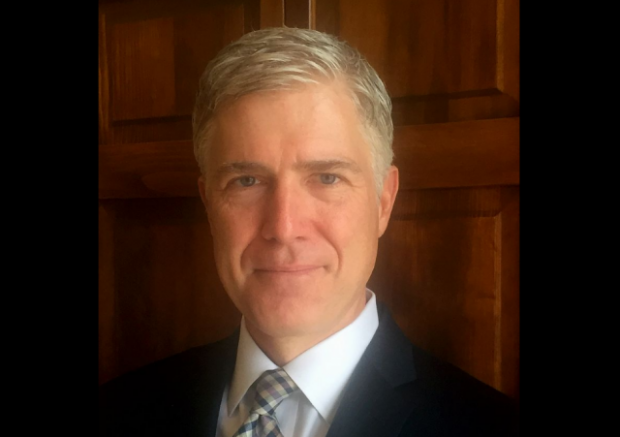 There is still a "never-Trump" faction among conservatives, but for all their complaints about the president, there is one simple truth they cannot escape. If Trump hadn't won the election, we wouldn't have Supreme Court Justice Neil Gorsuch.
Gorsuch was an outstanding choice for the Supreme Court, and seven months in, people on the right are pleased.
Mark Sherman of the Associated Press:
Gorsuch establishes conservative cred in 1st year on court

More than 2,000 conservatives in tuxedos and gowns recently filled Union Station's main hall for a steak dinner and the chance to cheer the man who saved the Supreme Court from liberal control.

Justice Neil Gorsuch didn't disappoint them, just as he hasn't in his first seven months on the Supreme Court.

"Tonight I can report that a person can be both a publicly committed originalist and textualist and be confirmed to the Supreme Court," Gorsuch said to sustained applause from members of the Federalist Society, using terms by which conservatives often seek to distinguish themselves from more liberal judges.

The 50-year-old justice has been almost exactly what conservatives hoped for and liberals dreaded when he joined the court in April. He has consistently, even aggressively, lined up with the court's most conservative justices. He has even split with Chief Justice John Roberts, viewed by some as insufficiently conservative because of his two opinions upholding President Barack Obama's health law.

During arguments, Gorsuch has asked repeatedly about the original understanding of parts of the Constitution and laws, and he has raised questions about some long-standing court precedents, including the civil rights landmark ruling on "one person, one vote.
When Antonin Scalia died in 2016, the Obama administration wanted to fill the seat as quickly as possible. Republicans did the right thing by insisting on waiting until after the election.
Speaking of Scalia, Gorsuch is acutely aware of the legacy of the late justice. He's a fan, too.
Ryan Lovelace writes at the Washington Examiner:
Neil Gorsuch: Scalia's views on the Constitution aren't 'going anywhere on my watch'

Supreme Court Justice Neil Gorsuch touted his confirmation to the high court as evidence that the late Justice Antonin Scalia's legal thinking had triumphed.

Gorsuch spoke at a dinner Thursday night held by the Federalist Society in honor of Scalia at Union Station in Washington, D.C., and said the jurisprudential philosophies of originalism and textualism popularized by Scalia had emerged victorious.

"Tonight I can report that a person can be both a publicly committed originalist and textualist and be confirmed to the Supreme Court of the United States," Gorsuch said. "Originalism has regained its place at the table … textualism has triumphed … and neither one is going anywhere on my watch."
It would be nice if the "never-Trump" wing of American conservatism would give the president some credit for this. It doesn't end with Gorsuch either. He was just the beginning.
Jake Novak writes at CNBC:
Congress has handed Trump a historic presidential victory

Consider that as of November 3rd, 13 Trump nominees to the courts have been confirmed this year. The big name is Supreme Court Associate Justice Neil Gorsuch, but we also have eight new federal appeals court judges, and four new U.S. district court judges. President Trump has now already surpassed the last four presidents' records for first-year judicial confirmations. And he's even tied President Ronald Reagan number of appeals court confirmations in year one.

But this isn't just about sheer numbers, it's about ideology too. While President Trump and conservatives have diverged in matters of policy several times over the past year, the judicial nomination process is decidedly not one of them. The nominees sent to the Senate from the White House are more conservative and even younger than what we saw during President George W. Bush's two terms in office.
None of this would have been possible had Hillary won.