Posted by
Kemberlee Kaye
Sunday, November 5, 2017 at 11:30am
| 11/5/2017 - 11:30am
"Paul told troopers that his neighbor came onto his property and tackled him from behind, forcing him to the ground and causing pain."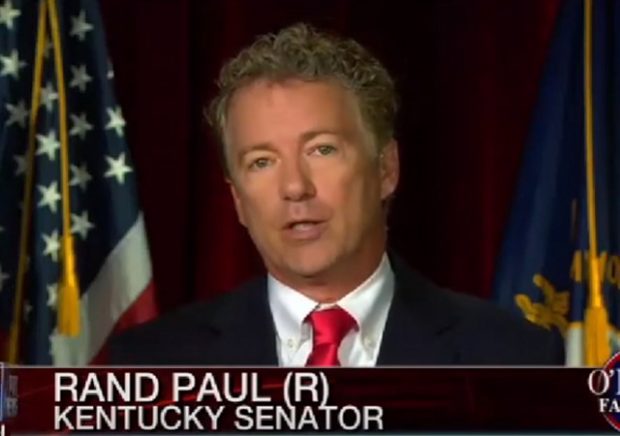 Kentucky's junior senator Rand Paul was assaulted outside of his own Bowling Green home Friday afternoon.
According to local news, the alleged assailant is Rene Boucher is Sen. Paul's next door neighbor. The FBI believes the attack was politically motivated:
Per KSP, Rene Boucher, 59, assaulted @RandPaul causing minor injury last night Boucher charged 4th degree assault More soon at @bgdailynews pic.twitter.com/5EUthFUOEY

— Joe Imel (@joeimel) November 4, 2017
Breaking: Man who assaulted Sen. Paul lives next door to him. @wnkytv just knocked suspect door. FBI says it was politically motivated. pic.twitter.com/YrbeBnsskB

— WNKY TV (@wnkytv) November 4, 2017
WBKO reported:
On Friday, the Kentucky State Police responded to Rand Paul's residence in Bowling Green at 3:21 p.m.

When they arrived, troopers say they discovered that Rene Boucher, 59, of Bowling Green, intentionally assaulted Sen. Rand Paul causing minor injury.

Troopers say Senator Paul was not transported to the hospital.

Boucher was arrested and charged with one count of Assault 4th—minor injury, and taken to the Warren County Detention Center.

"Senator Paul was blindsided and the victim of an assault. The assailant was arrested and it is now a matter for the police," says Kelsey Cooper, State Communications Director for Office of U.S. Senator Rand Paul (R-KY).

Warren County Regional Jail has the spelling listed as Rene Albert Bousher.

KSP says Boucher was an acquaintance.

…According to the arrest warrant, Paul told troopers that his neighbor came onto his property and tackled him from behind, forcing him to the ground and causing pain.

The arrest warrant goes on to say that Paul had small cuts to his nose and mouth.
According to the Bowling Green Daily News is being held on a 5,000 bond. Boucher has been charged with a Class A misdemeanor, which could spell jail time if convicted.
Follow Kemberlee on Twitter @kemberleekaye