Posted by
Mary Chastain
Thursday, November 16, 2017 at 1:15pm
| 11/16/2017 - 1:15pm
Menendez faced charges of accepting gifts in exchange for political influence.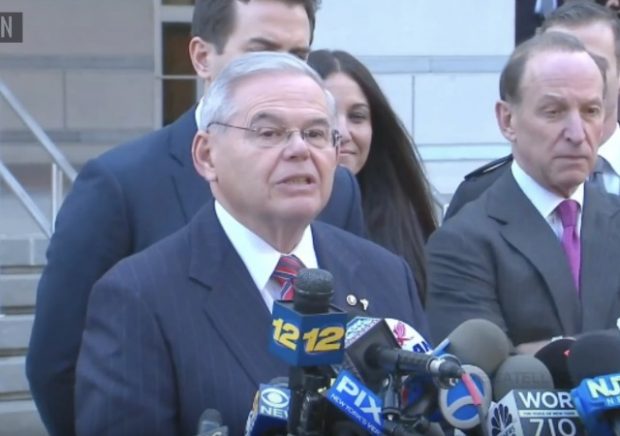 Judge William Walls has officially declared a mistrial in Democrat Sen. Bob Menendez's corruption trial after the jury came back deadlocked again.
The jury came back deadlocked on Monday and the judge sent them home early and told them to try again. They did, but could not reach a decision on the seventh day of deliberations.
The senator faced charges for bribery, honest services fraud, and conspiracy. He allegedly used his position in the Senate "to proffer favors for big-moneyed campaign donor, Dr. Salomon Melgen.
From NBC Connecticut:
In telling the judge they were deadlocked for the second time, the jurors said they were hung on all counts despite going through the evidence slowly, thoroughly and with great detail, according to part of the jury's note read by defense attorney Abbe Lowell.

The jury deliberated for about 14 hours over three days. The first deadlock came Monday, when the jurors sent a note saying they couldn't reach a unanimous verdict on any of the 18 counts in the indictment against Menendez and Melgen. Monday's impasse came after deliberations had to restart following a juror's release for a scheduled vacation.
Judge Walls declared a mistrial after he interviewed all of the jurors. From CNN:
"I find that you are unable to reach a verdict and that further deliberations would be futile and there is no alternative but to declare a mistrial," he said.
Prosecutors have not said if they plan to refile the charges against Menendez.
The mistrial is a downer for both the Department of Justice and Menendez. The DOJ has worked on its investigation into Menendez for five years while he does not have "the clear vindication he had hoped for in court."
BREAKING: Judge Walls declares a mistrial in Menendez trial: "I find that you are unable to reach a verdict" and that "there is no alternative but to declare a mistrial."

— Nick Corasaniti (@NYTnickc) November 16, 2017
MISTRIAL AT MENENDEZ TRIAL, defense attorney tells reporters. Menendez emerges from judge's chambers, wraps children in a big hug. Supporters of defendants are hugging and tearing up.

— Nicholas Pugliese (@nickpugz) November 16, 2017