Posted by
Kemberlee Kaye
Friday, October 20, 2017 at 8:12pm
| 10/20/2017 - 8:12pm
"It was a moment of niceness that we needed because we were going through hell"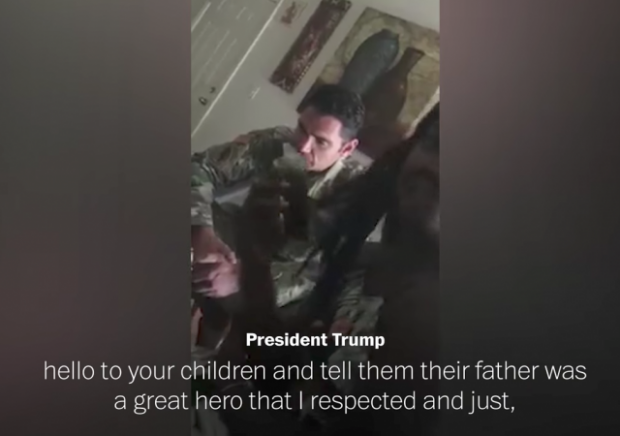 In the midst of a completely unnecessary controversy over President Trump's phone calls to the widows of fallen soldiers, Natasha De Alencar, released video of a phone call she received from President Trump.
From the New York Post:
The widow of a fallen soldier has released a recording of her call with President Trump — and she says he did a great job as consoler-in-chief.

"At that moment when my world was upside down and me and my kids didn't know which way we were going, it felt like I was talking to just another regular human," Natasha De Alencar told the Washington Post.

De Alencar's husband, Army Staff Sgt. Mark De Alencar, was killed in a firefight in Afghanistan on April 8, and Trump made the call four days later.

In the footage of the four-minute call, recorded by one of their four kids, Trump says he's sorry about the "whole situation" and calls her husband "an unbelievable hero."

He later invites her to the White House next time she is in DC.

"It was a moment of niceness that we needed because we were going through hell," De Alencar told The Post.
The video:
Follow Kemberlee on Twitter @kemberleekaye