Posted by
Mary Chastain
Wednesday, October 11, 2017 at 8:30am
| 10/11/2017 - 8:30am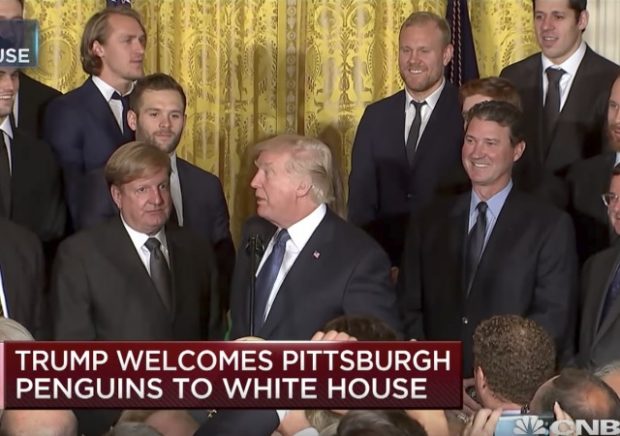 Stanley Cup champions Pittsburgh Penguins visited the White House Tuesday despite pressure from the Golden State Warriors refusal drop by the White House to celebrate their NBA championship win.
The left went CRAZY on social media and one outlet even downplayed the tradition of visiting the White House.
President Trump called the Penguins "true champions and incredible patriots" as Sidney Crosby, Evgeni Malkin, and American Phil Kessel stood around him.
When the Penguins announced last month that they planned to go to the White House, they offered explanations. From SB Nation:
"We respect the office of the president and the White House, and the history and tradition of the championship team getting invited to the White House," coach Mike Sullivan said last month, via the Pittsburgh Post-Gazette.

"I think it's more about the fact that we won the championship, and it's tradition to go to the White House," forward Conor Sheary said recently, via the Pittsburgh Tribune-Review. "It has nothing to do with who's the president or what decisions he's making."
Satchel Price at SB Nation claimed in his article that the Penguins are overstating the "tradition" of visiting the White House. According to him, since the practice really only started in 1991, it's not really a tradition and the Penguins are using it as an excuse to avoid their racist reality:
An NBA champion was invited to the White House two decades before an NHL champion, yet that tradition didn't stop Stephen Curry and the Warriors from speaking out against going (with Trump pulling his invitation to them afterwards). The NHL may have other reasons for its attempts at political neutrality — namely, it's a league comprised primarily of wealthy, white men who aren't impacted in the same way by the issues being protested in the NFL — but in wake of the collision between Trump and activism by athletes, that's an uphill climb.

The Penguins keep saying their decision to go is apolitical, and they operate in a world where many of their fans may view it that way. To them, this isn't about fighting police brutality or racial injustice, it's just about respecting tradition. "It's not about politics, that's for sure," Sidney Crosby said recently.
Talk about Trump Derangement Syndrome.
But others took to Twitter to lash out at the Penguins:
He just told his VP to walk out on a Colts game, and he's attacking Jemele Hill again. Enjoy that apolitical White House visit, Penguins. https://t.co/Mzyo8sPDDl

— Bruce Arthur (@bruce_arthur) October 10, 2017
The Penguins spending the entire White House visit looking ashamed to be there is all the proof you need of why they shouldn't have gone.

— Jeff Veillette (@JeffVeillette) October 10, 2017
My response to Jeff:
Or maybe it's b/c everyone has attacked them, making it about politics & hatred of the president & not their victory. Just a thought. https://t.co/EuIOcY6vdt

— Mary Elizabeth (@mchastain81) October 10, 2017
Or maybe it's b/c everyone has attacked them, making it about politics & hatred of the president & not their victory. Just a thought. https://t.co/EuIOcY6vdt

— Mary Elizabeth (@mchastain81) October 10, 2017
Sid was also raised to believe that by repeating an inherently incorrect thing enough times, you will it into truth. https://t.co/l1AzOU3cmN https://t.co/dHNm1GjPNz

— Greg Wyshynski (@wyshynski) October 10, 2017
If one of the @penguins body checked Trump- to show him hockey moves, of course- that would have been blissful.

— Footybedsheets (@_shireenahmed_) October 10, 2017