Posted by
Mary Chastain
Wednesday, October 4, 2017 at 3:30pm
| 10/4/2017 - 3:30pm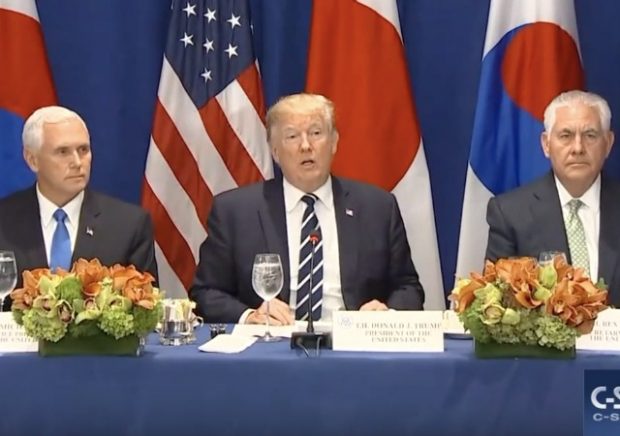 NBC News thought it had a big scoop when it reported that Vice President Mike Pence had to step in and convince Secretary of State Rex Tillerson not to resign in July after he allegedly called President Donald Trump a 'moron'.
Tillerson held a press conference this morning to counter these reports and assure everyone that he has never considered leaving his post. The State Department has denied that Tillerson called Trump a moron.
Despite this, the media remains focused on the 'moron' comment, which has now evolved from moron to f*cking moron.
Tillerson didn't deny he made the comment about Trump, but said he won't get involved in this petty behavior:
"I'm not going to deal with petty stuff like that," Tillerson says of reports he called Pres. Trump a "moron" https://t.co/IzVzkXYcmT pic.twitter.com/VtndQo73up

— CBS News (@CBSNews) October 4, 2017
Even Pence confirmed that he never had to convince Tillerson to stay on the job:
At no time did @VP & #SecState discuss prospect of Sec. resignation. Any assertion VP questioned @NikkiHaley's value to admin is also false. pic.twitter.com/QLUJPZu0Nq

— Jarrod Agen (@VPComDir) October 4, 2017
Media Holding On
So it did not shock me when I saw this email from CNN: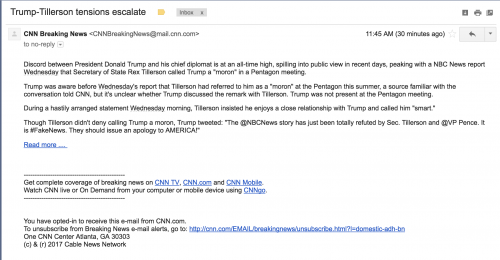 ESCALATE?! Tillerson just held a press conference to refute the NBC report. The media, which is supposed to stick to facts, thinks Tillerson's refusal to explicitly deny the 'moron' comment must mean something more even though he called it 'petty'.
With their original scoop in shambles the reporter from NBC News is saying that her "source" says Tillerson called Trump a 'f*cking moron', not just a 'moron'.
NBC's @SRuhle reports her source said Tillerson didn't just call Trump a moron, he called him a "f—king moron." https://t.co/kxUcp1AkqZ

— Christina Wilkie (@christinawilkie) October 4, 2017
MSNBC's Stephanie Rule: "My source didn't say Tillerson called Trump a 'moron.' My source said he called Trump a 'fucking moron.'"

— Mike Signorile (@MSignorile) October 4, 2017
Still marveling at Tillerson holding a press conference to NOT deny he called the president a "moron"https://t.co/toIk5KUgIz

— Chris Cillizza (@CillizzaCNN) October 4, 2017
Reactions
Media: We're rolling our eyes at you.
Henceforth will this fluff be known as MoronGate?

— Curtis Kalin (@CurtisKalin) October 4, 2017
When I was in 3rd grade Tommy called Johnny a moron and kids talked about it for years and it was on the news because there was no news

— Michael Wayne (@MichaelWayne007) October 4, 2017
Remember, whether Tillerson made a mean comment once about Trump more important than major network lying about Tillerson resignation

— Legal Insurrection (@LegInsurrection) October 4, 2017
This is why people hate the media, and the media deserves it https://t.co/7vkv6ezoq2

— Legal Insurrection (@LegInsurrection) October 4, 2017
Major network news report on Tillerson resignation revealed to be completely fake, but let's change the subject https://t.co/lZoOmi4AEn

— Legal Insurrection (@LegInsurrection) October 4, 2017
Its incredible how you just make shit up at CNN. My god. Get help fool

— Professor MAGA (@TrumpsMomentum) October 4, 2017
Is this true or did cnn say it?

— ChanbahIum II (@ChanBahlumII) October 4, 2017