Posted by
Mike LaChance
Sunday, September 17, 2017 at 7:30am
| 9/17/2017 - 7:30am
"I think it's a privilege to teach future dead cops"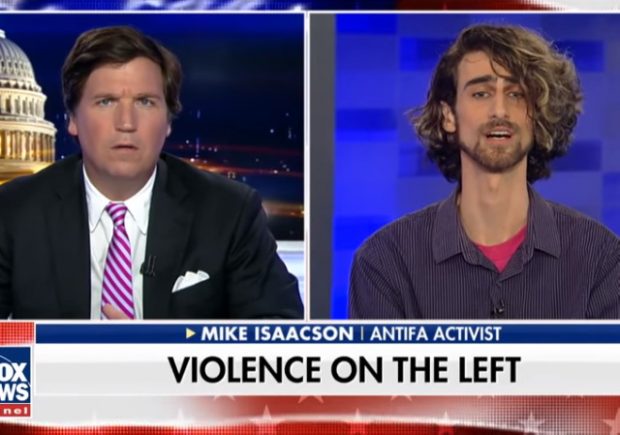 Mike Isaacson is a professor at John Jay College of Criminal Justice, a part of the City University of New York. He is openly pro-Antifa violence and has been suspended following a series of tweets in which he joked about police deaths.
Isaacson appeared on the Tucker Carlson show last week. During their discussion, Tucker was barely able to hide his disbelief over what was being said.
From the FOX News Insider:
Tucker to Pro-Antifa Professor: Do You Teach Students That 1st Amendment Rights Don't Apply?

Antifa – or "anti-fascist" – groups have made headlines in recent months for violently protesting conservative or alt-right events, perhaps most infamously Milo Yiannopoulos' speech at UC-Berkeley in February.

Mike Isaacson, a professor at John Jay College of Criminal Justice and founder of Smash Racism D.C., argued that Antifa activists have the right to respond to violence with violence.

Carlson said Isaacson is "blurring the lines" between physical violence and speech with which he disagrees.

"You're conflating violence with ideas," Carlson said. "If I have not raised my hand to strike you, you have no right to strike me."

He asked Isaacson if he teaches his students that the First Amendment does not apply to people they disagree with.

"I teach them to think critically, and that's why I'm very open about my anti-fascism and my anarchism," Isaacson said, adding he has had students who were Trump supporters or members of the alt-right and he held them to the same standards as any other student.

"I don't believe you," Carlson fired back.
Watch the exchange below:
Among his other outrageous claims, are these gems:
Anti-communism is code for fascism https://t.co/0LbqjEoF4D

— Mike Isaacson (@VulgarEconomics) October 22, 2016
You cannot talk honestly about historical progress unless you talk about the historical violence necessary to win it.

— Mike Isaacson (@VulgarEconomics) August 20, 2017
Violence is what protects your ability to be nonviolent. If you can say the troops fight for your freedom, you can say the same of antifa.

— Mike Isaacson (@VulgarEconomics) August 20, 2017
His more recent tweets began to gain notice among police advocates and conservatives on Twitter. Especially this one:
Some of y'all might think it sucks being an anti-fascist teaching at John Jay College but I think it's a privilege to teach future dead cops

— Mike Isaacson (@VulgarEconomics) August 23, 2017
Ian Miles Cheong wrote about it at the Daily Caller:
Criminal Justice Professor Justifies Antifa Violence And Jokes About Dead Cops

Mike Isaacson, a professor at the John Jay College of Criminal Justice and a co-founder of the Antifa organization Smash Racism D.C., promotes political violence. In a series of tweets, he also laughed at dead police officers.

Isaacson shared his support of political violence in an interview with The Hill Thursday, which was pointed out by Far Left Watch. The article, which explores the Antifa movement and its proponents in academia, got a few choice quotes from the professor.

"The justification [of the use of violence] is that Nazi ideology at its very core is founded on violence and on wielding power by any means," Isaacson said.
One day later, Cheong reported that Isaacson had been suspended:
Criminal Justice Professor Who Called For Police Deaths Placed On Administrative Leave

Mike Isaacson, a professor at the John Jay College of Criminal Justice who made numerous jokes about dead cops and openly supports Antifa, has been placed on administrative leave by the school.

The college contacted The Daily Caller Friday with a statement from college president Karol V. Mason to announce that the professor has been placed on administrative leave following TheDC reporting on Isaacson's comments. The report prompted users on social media to participate in a popular #FireMike Twitter hashtag calling for the college to take action against him.
Here's part of the statement the Daily Caller received:
"I am appalled that anyone associated with John Jay, with our proud history of supporting law enforcement authorities, would suggest that violence against police is ever acceptable. I join with the many students, faculty, alumni and other members of our community in condemning these statements. The John Jay alumni who work in law enforcement, and the students who aspire to careers in law enforcement, represent our best. They secure the safety of our families and communities and deserve our respect.
Featured image via YouTube.