Posted by
Vijeta Uniyal
Sunday, September 24, 2017 at 4:43pm
| 9/24/2017 - 4:43pm
"We have the mandate to build the next government"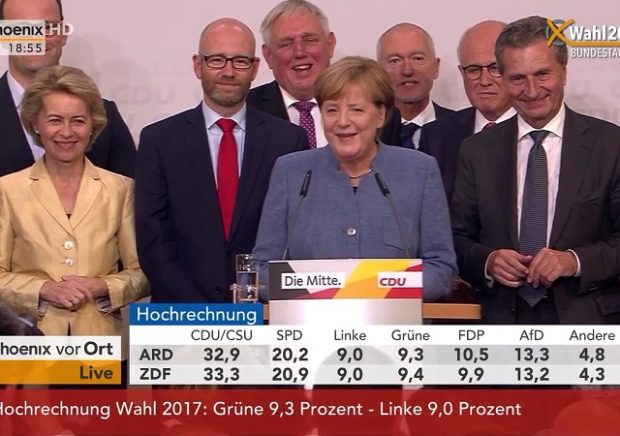 Despite her party's worst showing since 1949, German Chancellor Angela Merkel has managed to secure her re-election bid. Merkel's main rival, the Social Democratic challenger Martin Schulz conceded defeat earlier this evening.
Merkel was quick to stake her claim to the Chancellorship, saying, "We are the strongest party, we have the mandate to build the next government — and there cannot be a coalition government built against us." Merkel's Christian Democrats (CDU), along with her Bavarian sister party the Christian Social Union (CSU), secured over 33 percent of the vote.
The right-wing newcomer Alternative for Germany (AfD) has managed to enter the German parliament for the first time with better than expected performance. Concerted effort by the established parties and the media to discredit the AfD in the final stages of the election backfired badly. The party got around 13 percent of the vote.
"It's a big defeat for the mainstream media as well," Swiss People's Party (SVP) politician, Claudio Schmid, told Legel Insurrection. "Their smear campaign against AfD was counterproductive and dumb."
German news website Der Spiegel covered  today's election result:
Angela Merkel has won her fourth term as German chancellor, but her coalition partners for the last four years, the Social Democrats, have likely received their worst result since World War II. The right-wing populist AfD has secured more than 13 percent of the vote. (…)

Nevertheless, Sunday's vote marks a significant shift in German politics, with initial projections showing the right-wing populist Alternative for Germany (AfD) party winning over 13 percent of the vote, thus becoming the first overtly right-wing party to win seats in the country's federal parliament in over half a century. The result slightly outpaces the most recent public polling data — and is a far cry from the 7 percent the AfD had been polling at as recently as mid-summer — and it means the party will send close to 90 deputies to the Bundestag, Germany's parliament.

The Social Democrats (SPD), meanwhile, appear to have fallen to their worst result since World War II, with initial projections indicating that below 21 percent of voters have cast ballots for the party.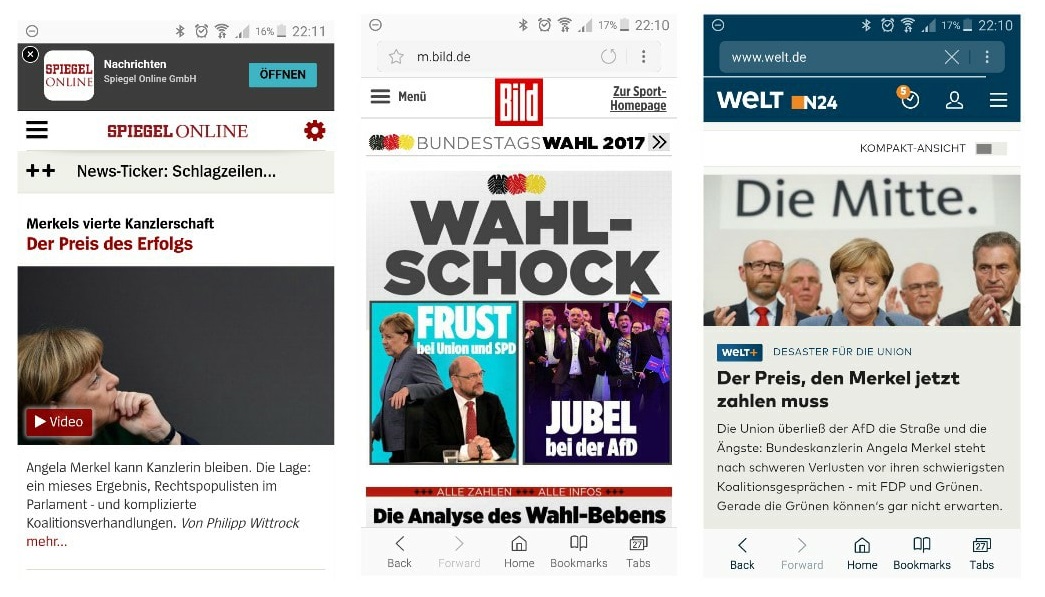 People chant "entire Berlin hates #afd" followed by "Nazis out of Berlin".They protest next to afd election party venue at #alexanderplatz. pic.twitter.com/Va5KeINOQi

— Fanny Facsar (@FannyFacsar) September 24, 2017
With the right-wing AfD set to enter the German Bundestag, politics in Berlin will become more turbulent. German public broadcaster Deutsche Welle reported that "Crowd [were] continuing to grow outside the building where the AfD was celebrating their historic election result [in Berlin]. Protestors chanted slogans such as, "Racism is not an alternative," "AfD is a bunch of racists," and "Nazis out!""
As reports trickle in, anti-AfD protests were being staged in major German cities, including Cologne, Hamburg, Munich, Leipzig, Frankfurt and Berlin.

[Cover image via YouTube]