Posted by
William A. Jacobson
Wednesday, September 27, 2017 at 9:35pm
| 9/27/2017 - 9:35pm
Wants faculty trained in "systems of power and privilege" and admissions for non-immigrant blacks "affected directly by the African Holocaust in America"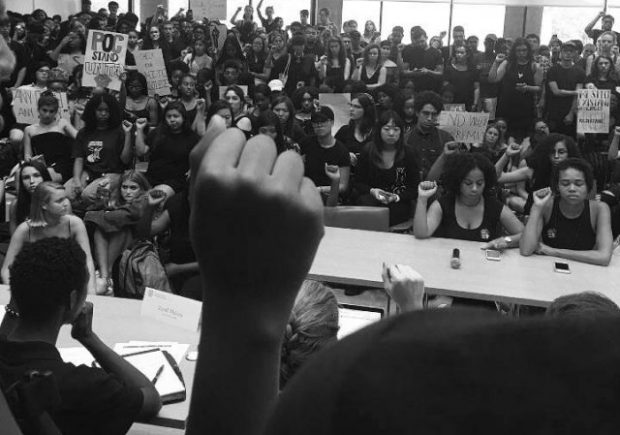 As we have previously covered, the Cornell University campus in Ithaca, NY, is in turmoil after two incidents.
In one, a student shouted "build a wall" near the Latino Living Center. At least two reports (Campus Reform and The New American) claim the student was Hispanic and said it to mock Trump. The Cornell administration has declined to confirm or deny those reports, referring me instead to prior general statements from university officials.
In a second incident, one or more students who got into a fight off campus with a black student called him the "N" word.
There have been multiple statements from the university administration promising action.
The Cornell Black Students United group delivered a list of demands to Cornell President Martha E. Pollack. Cornell Sun reporter Nicholas Bogel-Burroughs obtained the list of demands, and reported:
Now, following two separate incidents that have garnered national attention and may lead to hate crime charges against a Cornell sophomore, black students are urging Pollack to respond to their demands faster than the previous administration. A "nice email" from Pollack is not enough, one Black Students United co-chair said in the days following the assault of a black student.

Delmar Fears '19, the co-chair, hand-delivered six, stapled pages with 12 demands to Pollack on the third floor of Day Hall last week with hundreds of students at her side. BSU provided a copy of those demands to The Sun, and they are being published here for the first time.

Some of the demands — which include calls for mandatory coursework regarding systems of power, training for all employees and members of Greek life, a minority position on the University Assembly, an alternative dispute resolution process, the creation of an anti-racism institute, a permanent presidential task force, a plan to increase the presence of black Americans on campus and more — will be easier for Pollack to fulfill than others.
The list (pdf.) embedded at the bottom of the post, includes the following demands for training of students, faculty and staff:
"We demand that all students, undergraduate and graduate, to have appropriate, ongoing, and mandatory coursework that deals with issues of identity (such as race, class, religion, ability status, sexual/romantic orientation, gender, citizenship status, etc.). We want this coursework to be explicitly focused on systems of power and privilege in the United States and centering the voices of oppressed people, assembled by professional diversity consultants and student leaders. Every Dean of every college should implement this requirement, and hire faculty to teach this work who are well equipped to do so."

* * *

"We demand that all employees of the university, academic and otherwise (including tenured professors), to have appropriate, ongoing training (tied to evaluations and payroll) that deals with issues of identity (such as race, class, religion, ability status, sexual/romantic orientation, gender, citizenship status, etc.). We want this coursework to be explicitly focused on systems of power and privilege in the United States and centering the voices of oppressed people."
There also is a demand that a fraternity house (with which the people involved in the attack allegedly were affiliated – something the frat denies) be converted to space for people of color:
"We demand that the university to provide an adequate and appropriate space for the people of the African diaspora to utilize for programs of any kind, in perpetuity. We propose that this space be the Psi Upsilon house after they are expelled from campus."
The hiring of psychologists and physicians of color:
"We demand that Cornell Health to hire at least two more psychologists and psychiatrists of color in the next two years. We also want Cornell Health to hire at least one more physician of color in the next four years."
Most interesting, and perhaps reflecting a split in the black student community, the group demands specific extra help for non-immigrant blacks:
"We demand that Cornell Admissions to come up with a plan to actively increase the presence of underrepresented Black students on this campus. We define underrepresented Black students as Black Americans who have several generations (more than two) in this country.

The Black student population at Cornell disproportionately represents international or first-generation African or Caribbean students. While these students have a right to flourish at Cornell, there is a lack of investment in Black students whose families were affected directly by the African Holocaust in America. Cornell must work to actively support students whose families have been impacted for generations by white supremacy and American fascism."
Cornell Black Students United – Demands by Legal Insurrection on Scribd
[Featured Image: Via Black Students United Facebook: "Silence is power. Hate speech is not free speech. We will not waste any more emotional labor than we have already lost explaining basic human rights to your assembly. Stand on the right side of history Cornell. You will give us our time. We are reclaiming our time."]