Posted by
Kemberlee Kaye
Friday, August 18, 2017 at 1:03pm
| 8/18/2017 - 1:03pm
Friday to be his last day before heading back to Breitbart News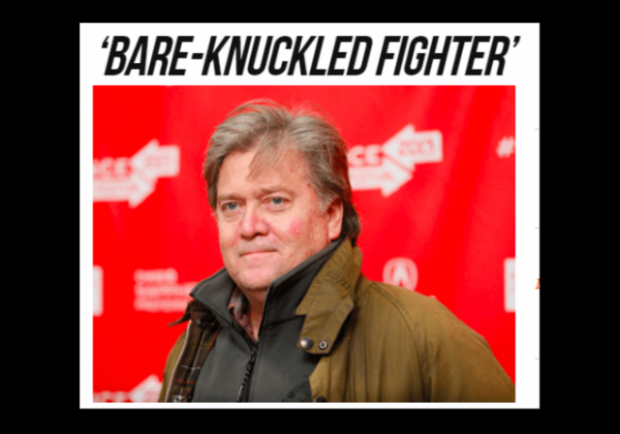 According to a New York Times report, Trump told White House aides he's cutting his Chief Strategist, Steve Bannon loose.
Though the report indicates Bannon is getting the boot, there's as of yet any confirmation of when he'll make his final White House exit and yet another source claims Bannon submitted his resignation more than a week ago.
From the NYT:
President Trump has told senior aides that he has decided to remove Stephen K. Bannon, the embattled White House chief strategist who helped Mr. Trump win the 2016 election, according to two administration officials briefed on the discussion.

The president and senior White House officials were debating when and how to dismiss Mr. Bannon. The two administration officials cautioned that Mr. Trump is known to be averse to confrontation within his inner circle, and could decide to keep on Mr. Bannon for some time.

As of Friday morning, the two men were still discussing Mr. Bannon's future, the officials said. A person close to Mr. Bannon insisted the parting of ways was his idea, and that he had submitted his resignation to the president on Aug. 7, to be announced at the start of this week, but it was delayed in the wake of the racial unrest in Charlottesville, Va.
Bannon confirms his resignation:
Steve Bannon just told me he resigned from the White House two weeks ago @POTUS #Bannon

— Sara A. Carter (@SaraCarterDC) August 18, 2017
Update: Bannon to head back to Breitbart News
From Politico:
Ousted White House chief strategist Steve Bannon on Friday returned to Breitbart News as executive chairman, the conservative news site announced.

"The populist-nationalist movement got a lot stronger today," said Breitbart News Editor-in-Chief Alex Marlow. "Breitbart gained an executive chairman with his finger on the pulse of the Trump agenda."
Follow Kemberlee on Twitter @kemberleekaye