Posted by
Mark Finkelstein
Wednesday, August 16, 2017 at 1:07pm
| 8/16/2017 - 1:07pm
"Leaders who stand up and speak out against Trump now will be seen in history as heroes."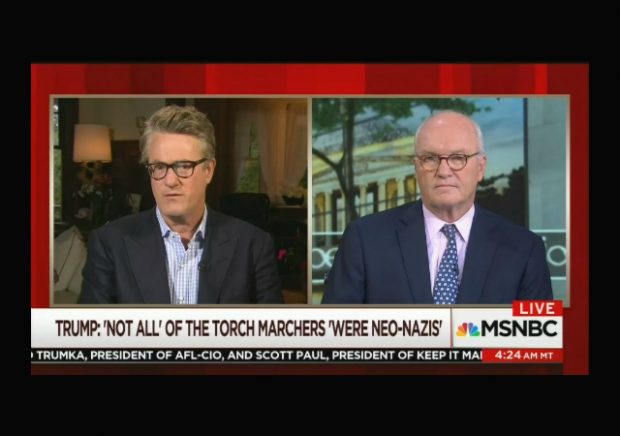 The entire first hour of today's Morning Joe was one, long, hyperventilation over President Trump's press conference of yesterday.
From Joe Scarborough to Willie Geist, Nicolle Wallace to Jon Meacham, Mike Barnicle to Michael Steele, the crew outdid themselves with apocalyptic condemnations of the president.
Below, we've noted some of the lowlights, but have a look at the montage for the full frontal assault.
Lowlights
"He has now officially become the president . . . of the white nationalist movement."
People "sure as hell didn't want a Duke in the White House. That's what they've got."
"If [Trump aides] don't resign en masse this morning, they're forever tainted with the stench of what he did yesterday."
"I can't believe a majority of people in this country want a person who supports neo-Nazism."
"Leaders who stand up and speak out against Trump now will be seen in history as heroes."
"How does [Jared Kushner] sleep at night?"