Posted by
Mary Chastain
Tuesday, August 29, 2017 at 4:00pm
| 8/29/2017 - 4:00pm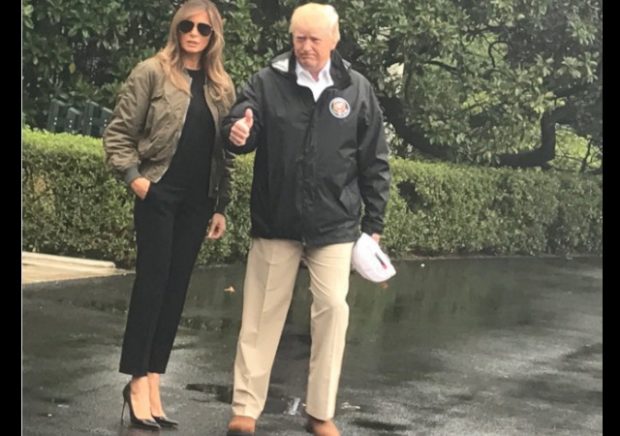 STOP THE PRESSES!!!! First Lady Melania Trump had the NERVE to wear stilettos as she boarded Air Force One to head to Texas with President Donald Trump.
The way people acted you'd think she's the one who ordered Hurricane Harvey to devastate the Gulf Coast of Texas.
.@POTUS & @FLOTUS depart the White House for Texas #Harvey pic.twitter.com/ynjiuCmBaA

— Noah Gray (@NoahGrayCNN) August 29, 2017
Her office said:
"It's sad that we have an active and ongoing natural disaster in Texas, and people are worried about her shoes," the first lady's Communications Director Stephanie Grisham told Fox News via email.
I posted the pictures and someone told me that the last thing people in Houston want to see is a billionaire's wife in f*ck me heels. As someone who has gone through hurricanes and tropical storms in Texas and tornadoes in Oklahoma, when you've lost everything, the last thing you care about are the shoes the First Lady is wearing.
You care about one thing: SURVIVAL.
Our very own Kemberlee is in the storm and I can pretty much guarantee she doesn't care about Melania's shoes. I'd ask, but she has lost power and I don't want to text her and use up any of her phone battery.
Nicole Gallucci at Mashable took the words right out of my mouth:
Melania had a change of shoes on Air Force One. By the time they landed in Corpus Christi, where Harvey made landfall, she'd changed into white sneakers.
Some Houston residents have lost everything, a city has been completely displaced, and the death count from the storm is still rising. In comparison, this debate over appropriate footwear is utterly meaningless and isn't helping anyone.
But alas, the stupid unleashed their stupidity:
And forgive me but gotta say it: Dear Melania, wearing those shoes is like saying to Houston "Let them eat cake."

— Grassrootsnet (@GrassRootsNet) August 29, 2017
POTUS and FLOTUS en route to Texas. A word to the wise Melania – you're gonna need new shoes #HoustonFloods pic.twitter.com/s3IehKZ6as

— Emily Purser (@EmilyPurser) August 29, 2017
Melania taking off for Houston on AF1…in stilettos.

— Chelsea Handler (@chelseahandler) August 29, 2017
And here we have Melania Trump modeling what NOT to wear to a hurricane: 5-inch stilettos.

How out of touch can you be? pic.twitter.com/tZR8o3dYxY

— Holly O'Reilly (@AynRandPaulRyan) August 29, 2017
Melania headed to a disaster zone in stilettos is my Halloween costume. pic.twitter.com/BWhUSKWVQ8

— Zach Braff (@zachbraff) August 29, 2017
Thank God some had common sense:
Team, the Trumps aren't going to Houston so it doesn't matter what heels FLOTUS wears. Also she can always change on AF1. https://t.co/3su0YpK4Ck

— Yashar Ali ???? (@yashar) August 29, 2017
Anyone talking about Melania's shoes has clearly never been to Russia or Eastern Europe in the winter get over it ????

— Miriam Elder (@MiriamElder) August 29, 2017
There's a ton of legitimate shit worthy of outrage right now. The shoes that Melania Trump wears on a flight to Texas isn't one of them.

— Lauren Rankin (@laurenarankin) August 29, 2017
Maybe policing the clothing choices of a woman in politics ISN'T the way we want to go as feminists or progressives. Just a thought.

— Lauren Rankin (@laurenarankin) August 29, 2017
OK everyone, look.
Melania Trump is capable of changing her shoes.
Can we stop now?

— John Stoehr (@johnastoehr) August 29, 2017