Posted by
Leslie Eastman
Tuesday, July 4, 2017 at 8:00am
| 7/4/2017 - 8:00am
"Perhaps China will put a heavy move on North Korea and end this nonsense once and for all!"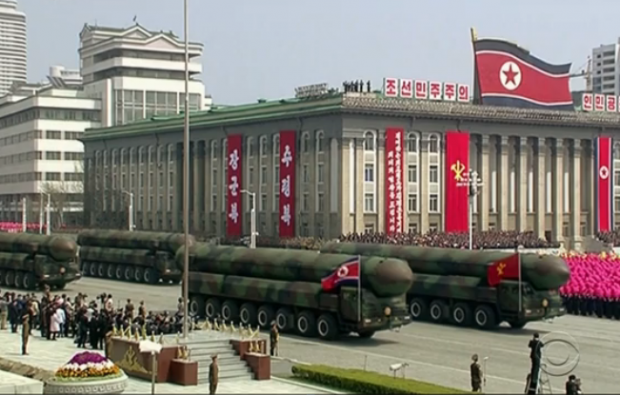 North Korea fired a ballistic missile that flew into waters east of the Korean Peninsula, according to South Korea's Joint Chiefs of Staff.
"We confirm that North Korea has fired an unidentified ballistic missile off its eastern coast towards the East Sea from Banghyun area in Northern Pyong An Province at around 9:40 am (KST) Tuesday morning," a South Korean military official told NBC. "The launch was immediately reported to the President Moon Jae In."

Moon ordered a National Security Council meeting after the launch, South Korean state news agency Yonhap reported, citing the Blue House — the South Korean equivalent of the White House.

The meeting was to determine the country's defense readiness against further incidents, Yonhap said.

Japan's main government spokesperson said there were no reports of damage to planes and ships in the proximity.

"It flew for approximately 40 minutes and is believed to have landed within Japan's economic exclusive zone," he said in comments translated from Japanese by NBC News.
The launch occurred shortly after President Donald Trump wrapped up calls to the leaders of China and Japan to talk about the North Korean threat.
Trump spoke with Chinese President Xi Jinping and Japanese Prime Minister Shinzo Abe ahead of expected meetings with the leaders of Asia's two biggest economies at a Group of 20 nations summit in Germany later this week.

"Both leaders reaffirmed their commitment to a denuclearized Korean Peninsula," the White House said of Trump's call with Xi from his resort property in Bridgewater, New Jersey, where he is spending a long weekend.

…Trump has become increasingly frustrated with China's inability to rein in North Korea, and the reference to trade was an indication the one-time New York businessman may be ready to return to his tougher-talking ways on business with Beijing after holding back in hopes it would put more pressure on Pyongyang.
There are some clear signs of President Trump's growing frustration with China's lack of intervention with its northern neighbor.
President Trump had this response to the new North Korean missile launch.
North Korea has just launched another missile. Does this guy have anything better to do with his life? Hard to believe that South Korea…..

— Donald J. Trump (@realDonaldTrump) July 4, 2017
….and Japan will put up with this much longer. Perhaps China will put a heavy move on North Korea and end this nonsense once and for all!

— Donald J. Trump (@realDonaldTrump) July 4, 2017