Posted by
Kemberlee Kaye
Wednesday, June 28, 2017 at 5:52pm
| 6/28/2017 - 5:52pm
"What family wants to come here with threats of "anarchists burning flags"."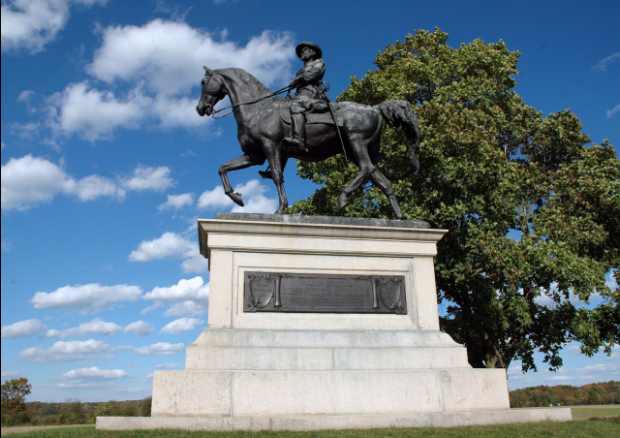 The anti-history crowd responsible for the eradication of Civil War statues and monuments around the country is destroying tourism in Gettysburg, Pennsylvania.
Much of the original Gettysburg battlefield is preserved and maintained by the National Park Service. The Gettysburg History Museum, a separate entity, is also a well-frequented attraction. Or it was.
And it's the Museum that's publicly lamenting the damage they claim is caused by extreme revisionists.
On their public Facebook page, the Gettysburg History Museum said protesters are killing tourism: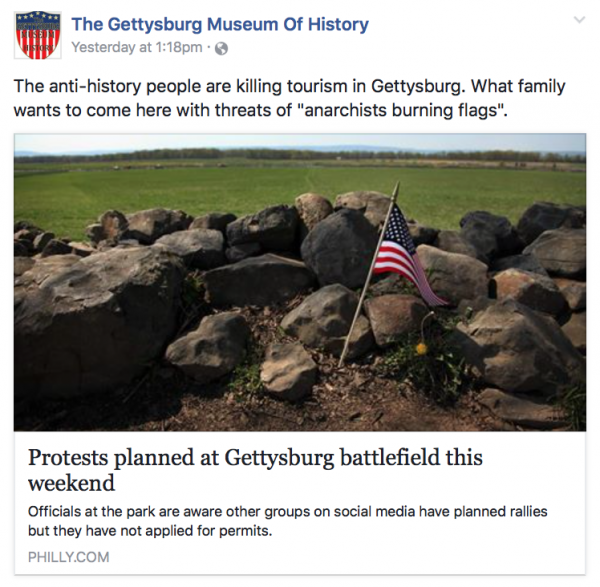 The museum also refuses to censor history.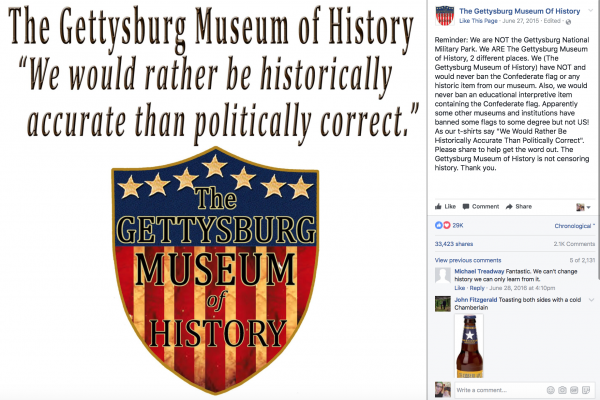 For their refusal to surrender fact to immature and insecure emotion, the museum, along with the battlefield will be subjected to militant anti-history protests planned by Antifa groups on the anniversary of the Battle of Gettysburg. These Antifa groups plan to burn Confederate battle flags and desecrate graves.
Philly reports:
Officials in Gettysburg are bracing for protests this weekend coinciding with the 154th anniversary of the Civil War battle.

The Sons of Confederate Veterans and a group called Real 3% Risen have received special use permits for 11 a.m. to 6 p.m. Saturday in a special section north of Meade's Headquarters.

"We make accommodations for people who want to exercise their First Amendment rights," said Katie Lawhon, a spokeswoman for Gettysburg National Military Park.

Officials also are aware of plans for other rallies that have been announced on social media but have not obtained permits, and there are unconfirmed reports that anarchists plan to burn Confederate flags during the anniversary of the battle.

Lawhon said the park is working with the U.S. Park Police, the Pennsylvania State Police, and local law enforcement to keep order during the weekend.

"Our goal is to ensure that public safety and visitor safety is number one and that park resources are preserved," she said.

Besides the two permitted protests, Civil War reenactors from the Maryland Sons of Confederate Veterans also received a permit for a "site specific" march starting at 10 a.m. from the North Carolina Memorial to the Veterans Memorial, where they will hold a ceremony, Lawhon said. Another popular private reenactment festival is also scheduled about two miles from the park, she said.
The battlefields, museums, and surrounding attractions have raked in upwards of $671 million in years past.
The Battle of Gettysburg was one of if not the bloodiest battle in the Civil War. Confederate troops led by General Robert E. Lee attacked Union forces for the second time in their own territory. More than 50,000 casualties later, and Lee's troops were defeated. With the Confederacy defeated on Union soil, the battle is often marked as a turning point in the war and became the inspiration for Lincoln's famed Gettysburg Address.
Lighting flags on fire and destroying graves won't undo the past. But it's a surefire way to prove one's immature ignorance.
Follow Kemberlee on Twitter @kemberleekaye