Posted by
Mary Chastain
Tuesday, May 9, 2017 at 1:00pm
| 5/9/2017 - 1:00pm
"SB 4 guarantees cooperation among federal, state and local law enforcement to protect Texans."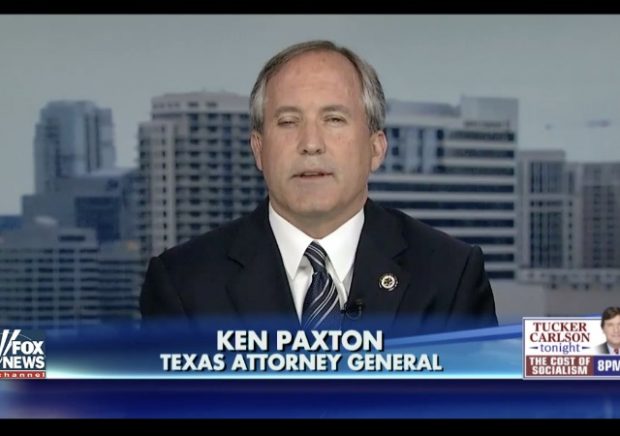 On Sunday, Texas Governor Greg Abbott signed a bill to ban sanctuary cities in the state. The law "also requires police chiefs and sheriffs — under the threat of jail and removal of office — to comply with federal requests to hold criminal suspects for possible deportation."
Today, Texas Attorney General Ken Paxton has filed a "lawsuit in [the] U.S. District Court for the Western District of Texas" that "names Travis County, the city of Austin and several local officials as defendants." Paxton wants "the court to uphold the constitutionality of the new law" and hopes it will help "avoid a multiplicity of suits in various forms."

KXAN reported:
"SB 4 guarantees cooperation among federal, state and local law enforcement to protect Texans," Attorney General Ken Paxton said in a statement Monday. "Unfortunately, some municipalities and law enforcement agencies are unwilling to cooperate with the federal government and claim that SB 4 is unconstitutional."

—

The attorney general says the lawsuit demonstrates the law is valid under the Fourth and Fourteenth Amendments to the U.S. Constitution.

"Governments throughout Texas have a clear duty to continue holding undocumented and suspected criminal aliens pursuant to ICE detainers," Paxton said. "This is a public safety issue that requires swift resolution. If a Texas sheriff or other law enforcement authority cannot lawfully honor an ICE detainer, dangerous people will slip through the cracks of the justice system and back into our communities. As a nation of laws, it is imperative that SB 4 is fully honored in Texas."
The lawsuit includes Travis County Sheriff Sally Hernandez, who received warnings from Abbott back in January when she decided not to "honor Immigration & Customs Enforcement (ICE) detainers – which hold illegal aliens in jail until ICE agents can take them into federal custody – unless they are accused of capital murder, aggravated sexual assault or 'continuous smuggling of persons.'"
Hernandez has had a change of heart. From KXAN:
Hernandez said last week that she would follow the ban if it were signed into law. "While I hate seeing a state law like this come to pass, I have always followed the law and that will not change," she said.
Council Member Delia Garza, representative for district 2, vows to fight against Paxton. KXAN continues:
"I think when the Texas Attorney General is suing you, you are doing something right and I think that we have often said that Austin is a welcoming city and we often said we disagree with SB4 and its intent," Council Member Delia Garza who represents district 2 says.

She says their fight is just beginning.

"I think this sends a message that Hispanics are not welcome in Texas and Hispanics are not valued," Garza says.
The city of Austin also released a statement on Paxton's lawsuit. From KVUE:
"We are aware of the lawsuit filed by Ken Paxton regarding Senate Bill 4. The City of Austin has been opposed to this legislation from its beginning. Our law enforcement professionals have told us this legislation will make our community less safe by degrading the relationship between our residents and the police who protect them.

The Law Department will defend the protected speech of our Mayor, City Council members, and City Manager who have been personally named in this lawsuit."