Posted by
Kemberlee Kaye
Thursday, February 2, 2017 at 8:30pm
| 2/2/2017 - 8:30pm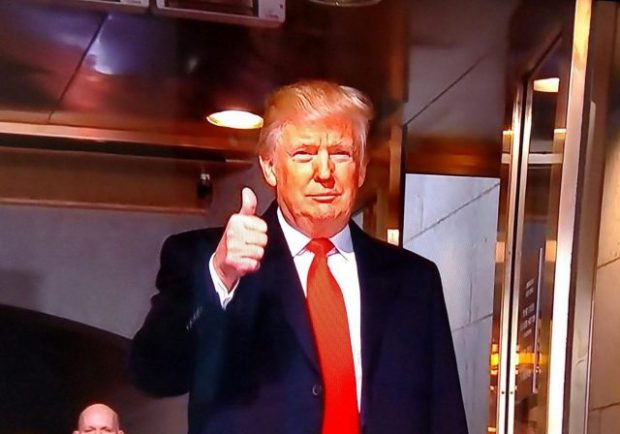 For all the hubbub over "fake news", major news outlets are making a name for themselves peddling misinformation and inaccurate reports.
Like this New York Times report.
Here's how the NYT ran the story: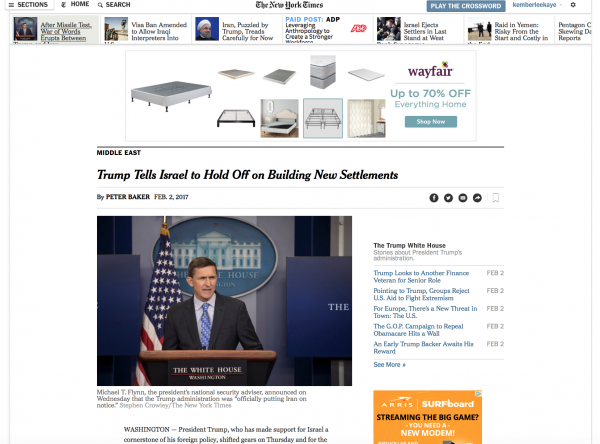 Sounds like Trump told Netanyahu to back off, right?
Here's the first part of the White House statement:
"The American desire for peace between the Israelis and the Palestinians has remained unchanged for 50 years. While we don't believe the existence of settlements is an impediment to peace, the construction of new settlements or the expansion of existing settlements beyond their current borders may not be helpful in achieving that goal."
"May not be helpful" is hardly "telling Israel to hold off". And yet…
But wait! There's more:
"As the President has expressed many times, he hopes to achieve peace throughout the Middle East region. The Trump administration has not taken an official position on settlement activity and looks forward to continuing discussions, including with Prime Minister Netanyahu when he visits with President Trump later this month."
No official position. None. But Trump told "Israel to hold off."
English is hard. So are facts, apparently.
UPDATE:
The NYT Updated the headline to read as follows: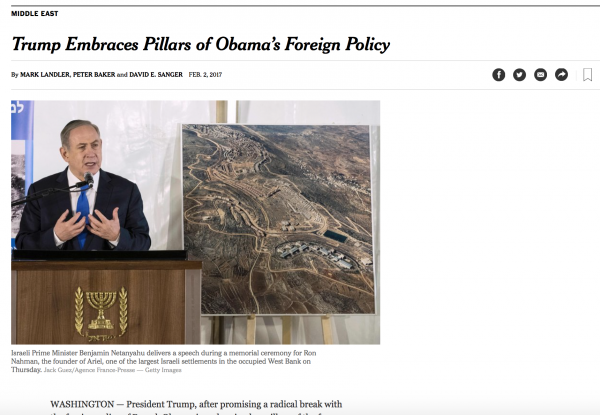 Looks like we're not the only ones who think so:
Read Spicer's statement. Broad acceptance of settlement building. Rest is fake news. https://t.co/QJT1S81Ich

— Eugene Kontorovich (@EVKontorovich) February 3, 2017
It goes far beyond Bush letter, in that no limitation to "blocs," rather embraces all existing settlements. https://t.co/qFk2Fk4Ide

— Eugene Kontorovich (@EVKontorovich) February 3, 2017
WH just embraced, & expanded on, Bush-Sharon agmt that OK'd construction in existing communities.
Only says NEW settlements may not help. pic.twitter.com/4uq3PUuowo

— Josh Block (@JoshBlockDC) February 3, 2017
This is huge. Endorsement of '04 letter. Reversal of Obama https://t.co/67mEoAqKKB

— John Podhoretz (@jpodhoretz) February 3, 2017
Follow Kemberlee on Twitter @kemberleekaye