Posted by
Mike LaChance
Monday, January 9, 2017 at 8:30am
| 1/9/2017 - 8:30am
If foreigners kicked out, "you'll have nothing to watch but football and mixed martial art"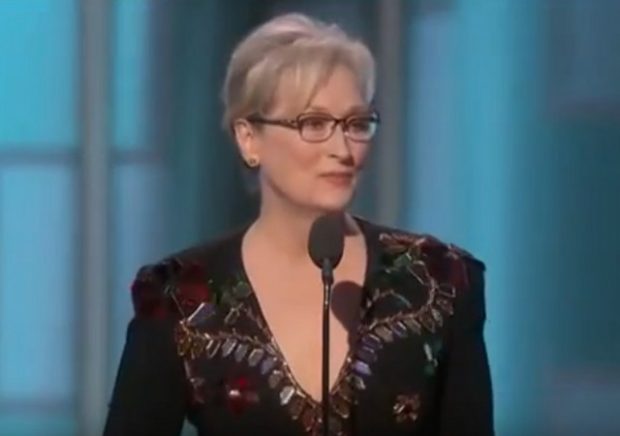 At the Golden Globe awards Sunday night, Meryl Streep used her stage time to attack Donald Trump. She lamented the fact that such a vulgarian won the election.
The funniest thing about her speech is how she frames the importance of being respectful of other people, a quality she clearly doesn't think Trump possesses.
Does everyone recall how respectful movies and TV were to George W. Bush? Streep lives in an alternate reality where everyone has always played fairly with each other.
Streep also singled out football and mixed martial arts because apparently America is dumb and lacks culture.
lol, #MerylStreep bitching about how "football and MMA is not art." no shit, but neither is the degenerate shit coming out of Hollywood pic.twitter.com/WSiwsUYYq3

— Mad Mel (@BasedMelGibson) January 9, 2017
Here are some highlights from her speech via NBC News:
Meryl Streep Takes on Donald Trump at Golden Globes

"Hollywood is crawling with outsiders and foreigners," Streep said after describing the diverse backgrounds of some of her acting contemporaries ("Where are their birth certificates?" she asked pointedly).

"So if you kick them all out, you'll have nothing to watch but football and mixed martial arts. And that is not the arts," she said.

The "Florence Foster Jenkins" star called out Trump's infamous (and often-disputed) mimicking of a disabled New York Times reporter earlier last year, which many have argued was a deliberate attempt to mock members of that community.

"It kind of broke my heart when I saw it, and I can't get it out of my head, because it wasn't in a movie. It was real life," Streep said. "And this instinct, to humiliate, when it's modeled by someone in the public platform, by someone powerful, it filters down into everybody's life, because it kind of gives permission for other people to do the same thing.
Hollywood and liberals all over loved it:
Hollywood isn't a bubble. It's a nexus of people from all over the world coming together to make art. White rural America is a bubble.

— Patrick Nathan (@patricknathan) January 9, 2017
Couldn't that last part apply to Saturday Night Live's treatment of all things Republican? Or Hollywood's utter disdain for Christian Americans? Streep doesn't seem to think so.
As for being respectful of others, a quality Streep obviously cherishes, does everyone remember when she showed up at an event over the summer in orange face?
Meryl Streep, in orange-face, don the guise of Donald Trump https://t.co/ApyMADHxAT pic.twitter.com/IjVhoyPeYv

— In My Group (@inmygroup) July 12, 2016
Here's the video of her speech:
Here are some reactions from Twitter:
.@patricknathan Rural America is a nexus of people from all over the world coming together to make your food.

— David Burge (@iowahawkblog) January 9, 2017
Streep: "Hollywood is crawling w/ foreigners, and if you kick em all out, you will have nothing to watch but football and mixed martial arts

— Ted Johnson (@tedstew) January 9, 2017
You got to love watching leftist Hollywood actors who don't live in reality lecture us on politics. #GoldenGlobes #MerylStreep

— Jack Murphy (@WeNeedTrump) January 9, 2017
this is a public therapy session for emotionally fragile millionaires

— GregGutfeld (@greggutfeld) January 9, 2017
The GOP should just play Meryl Streep's line about MMA every day on every channel ahead of the 2020 presidential election.

— Sonny Bunch (@SonnyBunch) January 9, 2017
Obama throws celebrity going away party. Media goes standing ovation for Meryl Streep

So they've learned absolutely nothing

— Stephen Miller (@redsteeze) January 9, 2017
This Meryl Streep speech is why Trump won. And if people in Hollywood don't start recognizing why and how – you will help him get re-elected

— Meghan McCain (@MeghanMcCain) January 9, 2017
It's so brave of Meryl Streep to publicly express the only acceptable political opinion in her profession. Truly the hero we all deserve.

— neontaster (@neontaster) January 9, 2017
Featured image via YouTube.