Posted by
William A. Jacobson
Saturday, January 7, 2017 at 1:45pm
| 1/7/2017 - 1:45pm
Pro-BDS resolution defeated, anti-BDS resolution passes at Delegate Assembly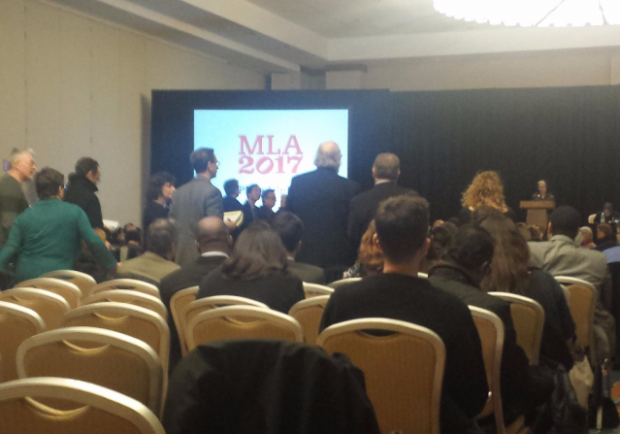 The Modern Language Association (MLA) Delegate Assembly voted today on three resolutions: One in favor of a boycott of all Israeli universities (Resolution 2017-2); the second, opposing academic boycotts in general (Resolution 2017-1); the third, condemning the suppression of academic freedom at Palestinian universities by the Palestinians themselves (the Palestinian Authority and Hamas)(Resolution 2017-3).
An exhaustive discussion of the resolutions and history of BDS activity at MLA is set forth in our prior post, Israel Boycott vote at Modern Language Association on January 7. Opposition to the BDS motion was led by a group calling itself MLA Members for Scholars' Rights, including Cary Nelson (U.Illinois), Russel Berman (Stanford), Rachel Harris (Illinois), Marty Schichtman (Eastern Michigan), Gabriel Noah Brahm (Northern Michigan), Jonathan Skolnik (UMass), Eric Aronoff (Michigan State), Yael Halevi Wise (McGill). The pro-BDS push was led by the usual cast of faculty who lead efforts at almost every faculty association in the Humanities.
The vote just took place, and the BDS resolution lost, and the anti-BDS resolution passed:
2017-2 pro bds: 79 yes 113 no
2017-1 antibds : 101 yes against 93
#MLA17 The boycott resolution fails (79 for, 113 against) and the anti-boycott resolution passes (101 for, 93 no). #MLABoycott17 For shame!

— MLAMJP (@MLAM4JP) January 7, 2017
The third resolution vote is pending. (UPDATE: The third Resolution was table indefinitely at the request of the anti-BDS people who proposed it. It became superfluous to the anti-BDS fight once BDS was defeated.)
We will have a full write up from someone in the room, probably tomorrow, but here is a taste of how the debate unfolded.
The debate at the MLA townhall yesterday was particularly vicious from the pro-BDS people:
Whoa – pro-BDS Jewish Prof calls some Jewish anti-BDS opponents "Judenrat" #MLABoycott #MLA17 https://t.co/oSTybR8Ei8

— Legal Insurrection (@LegInsurrection) January 7, 2017
Some in crowd at #mla17 #MLABoycott17 clapped when this Jew-bashing took place https://t.co/hfIwkQlzcu

— Legal Insurrection (@LegInsurrection) January 7, 2017
Palestinian #mla17 slams Jewish-Americans: "allowed selves 2 harbor palpable hostility 2 people who disagree w them" https://t.co/05o6yqo6LJ

— Legal Insurrection (@LegInsurrection) January 7, 2017
#MLABoycott17 Prof calls 2 decolonize USA so why no boycott own university? Hypocrite #mla17 @anthroboycott @MLAM4JP https://t.co/ZK2YFJ7Aa6

— Legal Insurrection (@LegInsurrection) January 7, 2017
The opposition was much more an appeal to reason:
Prof. Cary Nelson, HERO of #MLAboycott17 defeat: BDS misdirected and destructive @ScholarsRights #mla17 https://t.co/pEkJuFyakG

— Legal Insurrection (@LegInsurrection) January 7, 2017
Powerful: #MLA17 Prof compares Academic BDS to Spanish Inquisition #MLABoycott17 https://t.co/3WM6f0W9JF

— Legal Insurrection (@LegInsurrection) January 7, 2017
#MLA17 Prof #MLABoycott17 will hinder Holocaust/genocide studies, disrupt work w Yad Vashem @anthroboycott @MLAM4JP https://t.co/3YYOhh3EKw

— Legal Insurrection (@LegInsurrection) January 7, 2017
#MLA17 Prof blasts #MLABoycott17 "bait and switch" by faculty who "don't give damn abt YOU" @anthroboycott @MLAM4JP https://t.co/PVtAQOIy45

— Legal Insurrection (@LegInsurrection) January 7, 2017
Prof: Anti-Israel Boycott Hurts Field of Jewish Studies [um, that's the point] #MLABoycott17 #mla17 https://t.co/qNloJNVIrO

— Legal Insurrection (@LegInsurrection) January 7, 2017
Prof: BDS Silences Education of Arab Women [yup, BDS anti-Israel not pro-Palestinian] #mla17 #MLAboycott17 https://t.co/62CFo4IhC2

— Legal Insurrection (@LegInsurrection) January 7, 2017
Best Q of #MLAboycott17 #mla17: If BDS passes – Do we just boycott the Jews at Israeli universities? https://t.co/CIBzti7lTj

— Legal Insurrection (@LegInsurrection) January 7, 2017
This opposition was interesting, using the verbiage of social justice movement AGAINST BDS:
Proposed anti-Israel #MLABoycott17 is neoliberal fraud says #mla17 member @golatschen >> @anthroboycott @MLAM4JP https://t.co/ivrqjIbdd4

— Legal Insurrection (@LegInsurrection) January 7, 2017