Posted by
William A. Jacobson
Wednesday, December 28, 2016 at 9:50am
| 12/28/2016 - 9:50am
Preemptive move against further Obama-Kerry actions.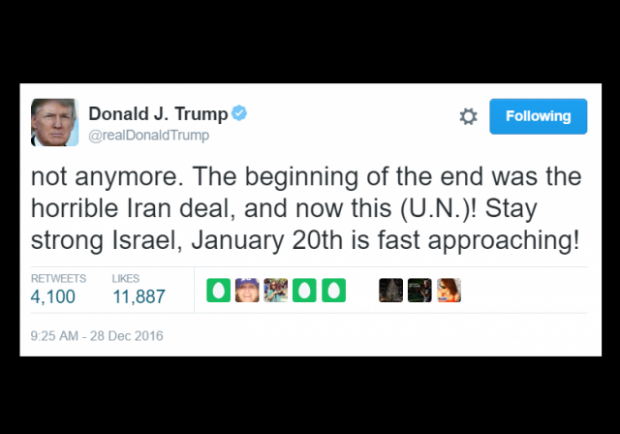 The complete debacle of the Obama administration's connivance in the anti-Israel UN Security Council resolution continues to reverberate.
How convenient that Obama pulled this stunt right before Christmas and Hanukkah. The outrage is not calming down, and likely is to escalate after Congress returns from break, at the Free Beacon reports.
Trump's initial reaction to the Resolution was to promise that things would change at the UN starting January 20.
But this morning, just before John Kerry is to give his policy address on a final status solution, Trump has jumped into the debate again. Perhaps to try to preempt the feared move by Obama to bring a second UN resolution to a vote, Trump tweeted:
We cannot continue to let Israel be treated with such total disdain and disrespect. They used to have a great friend in the U.S., but not anymore. The beginning of the end was the horrible Iran deal, and now this (U.N.)! Stay strong Israel, January 20th is fast approaching!
Doing my best to disregard the many inflammatory President O statements and roadblocks.Thought it was going to be a smooth transition – NOT!

— Donald J. Trump (@realDonaldTrump) December 28, 2016
We cannot continue to let Israel be treated with such total disdain and disrespect. They used to have a great friend in the U.S., but…….

— Donald J. Trump (@realDonaldTrump) December 28, 2016
not anymore. The beginning of the end was the horrible Iran deal, and now this (U.N.)! Stay strong Israel, January 20th is fast approaching!

— Donald J. Trump (@realDonaldTrump) December 28, 2016
(added) Netanyahu responds:
President-elect Trump, thank you for your warm friendship and your clear-cut support for Israel! ????????????????@IvankaTrump @DonaldJTrumpJr https://t.co/lURPimG0wS

— Benjamin Netanyahu (@netanyahu) December 28, 2016
Obama is succeeding in one thing — bringing some #NeverTrump-ers over to Trump's side:
I'd like to wish a mazal tov to the Obama admin for doing what I thought was impossible: You've made me glad Donald Trump was elected.

— Bethany S. Mandel (@bethanyshondark) December 28, 2016
As an avowed never trumper from the start, I also find myself in this uncomfortable position. https://t.co/Dog9mEkqhs

— Jason B. Whitman, OD (@JasonBWhitman) December 28, 2016