Posted by
Kemberlee Kaye
Friday, December 16, 2016 at 7:00pm
| 12/16/2016 - 7:00pm
"I told Vladimir Putin to cut it out"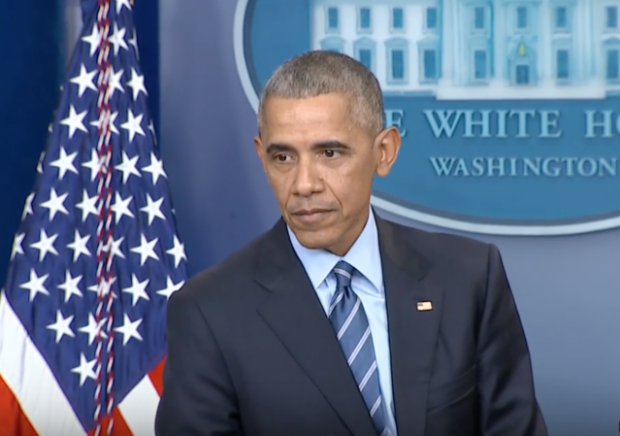 Friday, President Obama stood behind the podium for his last scheduled press conference of 2016.
Obama discussed Trump, Russia, and media treatment of Hillary in the most recent election.
We've compiled a few highlights:
Be deliberate! Says the man who refuses to call "terrorism" terrorism…
.@BarackObama: What I've advised to @realDonaldTrump is that on foreign policy you want to make sure you're doing it in a deliberate way. pic.twitter.com/Cng73waNtJ

— Shepard Smith (@ShepNewsTeam) December 16, 2016
He's not wrong, but why, I wonder, are we a nation so divided?
#Obama: Our vulnerability to Russia/other foreign power is directly related to how divided, partisan, dysfunctional our political process is pic.twitter.com/vHlO8tAYcW

— FOX Business (@FoxBusiness) December 16, 2016
Who are these people and what's wrong with them? I've never met a Putin-loving Republican in all my political work.
.@BarackObama: Over a third of GOP voters approve of Putin… the former head of the KGB… Ronald Reagan would roll over in his grave. pic.twitter.com/9eEwSBnJB9

— Shepard Smith (@ShepNewsTeam) December 16, 2016
Was this before or after he counted to 3?
President Obama: I told Vladimir Putin to "cut it out" on hacking https://t.co/f1mnFZcDzX pic.twitter.com/4bIr8TCUZB

— CNN Politics (@CNNPolitics) December 16, 2016
Because it's Christmas, I'm going to give him the benefit of the doubt that when he described Russia as "smaller" he wasn't actually talking about comparative size:
Obama: Russia is a "smaller and "weaker" country. "Their economy doesn't produce anything that anybody wants to buy" https://t.co/rGuadW0PGL

— CNN Politics (@CNNPolitics) December 16, 2016
If by not being treated fairly he means "was given a pass for criminal activity and strong-arming a party primary," then ok. This would be an interesting discussion if it weren't coming from the man who told Republicans to get to the back of the bus.
Obama: I don't think Hillary Clinton "was treated fairly during the election" https://t.co/jrKJasWOzh https://t.co/B8EHsjXyW7

— CNN Politics (@CNNPolitics) December 16, 2016
"Is the thing to say on this bright, Hawaiian Christmas Day"
Obama leaves his final press conference of 2016 before heading to Hawaii for vacation: "Mele Kalikimaka" ???? https://t.co/HIBhYfo45G

— CNN Politics (@CNNPolitics) December 16, 2016
Full press conference here:
Follow Kemberlee on Twitter @kemberleekaye