Posted by
William A. Jacobson
Wednesday, December 28, 2016 at 11:01am
| 12/28/2016 - 11:01am
An angry speech, and most of that anger directed at Israel.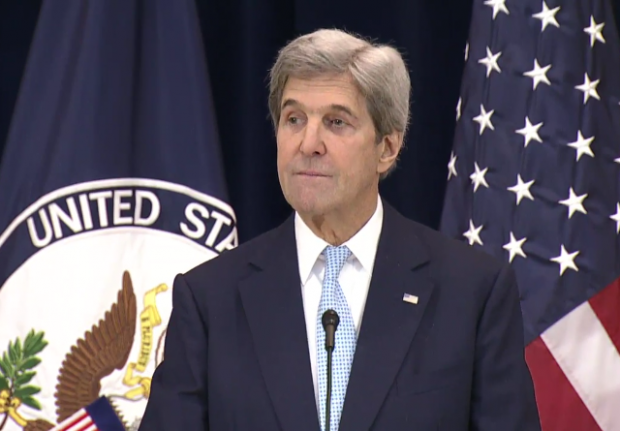 John Kerry's speech today setting forth his and Obama's vision of a final status for the Israeli-Palestinian conflict was expected to be a first step towards another UN Security Council resolution.
(UPDATE) My quick take on the speech:
It was an angry speech, and all of that anger was directed at Israel. In that sense, it fit the Obama paradigm precisely — the Palestinians may not be helpful, but the Israelis are to blame. There were so many contradictions in the speech, it was a model of Kerry's lack of seriousness — being serious takes more than a serious tone of voice.
Kerry's defense of the abstention was pretty pathetic. Completely missing was the recognition that Resolution 2334 and the way in which it was passed have made any resolution more, not less, difficult. This Resolution was dropped on the Israelis with almost zero notice. While Kerry's voice rose over the accusations of collusion, he never really disputed that the U.S. supported and encouraged the Resolution. Indeed, much of his speech was devoted to defending what happened.
For a supposedly big picture speech, it got very far down in the weeds, such as the number of building permits and a draft Knesset bill that isn't even law yet. Never mentioned was the core of the dispute — the Arab Muslim world does not accept a Jewish entity in any form or any boundary in the heart of the Arab Muslim world. Speaking that truth would have been a breath of fresh air – but instead we received stale condemnation of settlements as if there was no history of Palestinian rejectionism and Israeli offers to leave over 95% of the land area.
Kerry seemed to suggest there would be no attempt to impose his solution, but that doesn't mean there will be no more UN action. A resolution adopting or approving Kerry's 6 principles of a resolution without imposing them, still is a possibility. Those principles were nothing new, and principles Israel has mostly accepted in prior offers. But one of those principles, a non-militarized Palestinian state, likely is a non-starter, and would be ineffective anyway since without Israeli military control of the border with Jordan, there would be nothing to stop Hamas, Hezbollah and Iran from sneaking weaponry into the area.
So, this speech was a bitter and sad end to John Kerry's tenure as Secretary of State, one which left people farther apart than before he got involved.
Earlier:
That goal appears to have suffered a potential blow, as reports indicate that Russia is opposed to the idea of imposing a solution, Russia Rejects Kerry's Proposal for Quartet to Adopt U.S. Principles on Israeli-Palestinian Conflict. That doesn't rule out further U.S. action at the U.N., but it may reflect that passing such a resolution would not go as smoothly as the December 23 resolution.
This is starting out as a defensive speech from Kerry, on why US abstained from the UN resolution.

— Josh Kraushaar (@HotlineJosh) December 28, 2016
2-@JohnKerry: two-state solution is in jeopardy, & thus US "could not in good conscience" vote against UNSC 2234

— David Daoud (@DavidADaoud) December 28, 2016
. @JohnKerry "friends need to tell each other the hard truths…. the United States did in fact vote [at U.N.] in accordance to our values"

— Nick Phipps (@nickphippssky) December 28, 2016
Kerry: no president supported Israeli security more than Obama, admin fought boycotts. "Time & again we've proven we have Israel's back."

— Lahav Harkov (@LahavHarkov) December 28, 2016
Here it is: Kerry loves Israel so much that he is taking action its democratically elected govt. believes are inimical to its interests.

— Herb Keinon (@HerbKeinon) December 28, 2016
"After decades of conflict", mentions Kerry, forgeting to mention who started a war on #Israel time and again even after Oslo agreements.

— Tzippy Yarom صِپورة (@zpyarom) December 28, 2016
This John Kerry speech is chock full of false equivalence and legions of strawmen

— Rick Wilson (@TheRickWilson) December 28, 2016
Kerry says the US opposes Palestinian efforts to delegitimize Israel in international fora, including ICC. (PA says 2334 makes this easier.)

— Michael Wilner (@mawilner) December 28, 2016
While denouncing Hamas, @Johnkerry says @netanyahu coalition is most right wing in Israel's history consolidating control over W Bank

— Andrea Mitchell (@mitchellreports) December 28, 2016
"This is not to say that settlements are the whole or even the primary cause of the conflict. Of course they are not," Kerry says.

— Michael Wilner (@mawilner) December 28, 2016
Kerry : "There will be no guarantee of peace even if the settlements are gone"

— Mikarov (@YMikarov) December 28, 2016
Shorter Kerry: realistically, Palestine must be Judenrein

— Kamel Amin Thaabet (@K_AminThaabet) December 28, 2016
For a supposed big picture speech, Kerry is going into the weeds (and each of weeds has rebuttal)

— Legal Insurrection (@LegInsurrection) December 28, 2016
Kerry preaching the "two-state solution" while blaming the only side that has repeatedly offered peace deals is insane.

— Ben Shapiro (@benshapiro) December 28, 2016
This #KerrySpeech is textbook case of Western diplomat bringing American mindset to Middle Eastern realities

— Robert Nicholson (@rwnicholson_) December 28, 2016
This lengthy apologia reinforces the reports that the Obama admin was a motive force behind this vote.

— Jay Cost (@JayCostTWS) December 28, 2016
Kerry said earlier settlements not the primary problem now says they are — this speech is a bumbling rambling or random thoughts

— Legal Insurrection (@LegInsurrection) December 28, 2016
.@JoeNBC: pic.twitter.com/Nsa1RSx7QX

— Oren Kessler (@OrenKessler) December 28, 2016
Kerry just called East Jerusalem occupied territory. So the Western Wall is occupied territory.

— Mark Jacobs (@mr_markjacobs) December 28, 2016
strawmen – not accused of "drafting" "introducing" or "putting forward" – clear he supported the resolution, justifying it in speech https://t.co/QAIeehAK18

— Legal Insurrection (@LegInsurrection) December 28, 2016
Anger in Kerry's voice directed at Israel only

— Legal Insurrection (@LegInsurrection) December 28, 2016
Kerry deliberately misleading on 242, originally said withdraw from "all" territories, "all" removed so no demand to go back to pre-67 lines

— Legal Insurrection (@LegInsurrection) December 28, 2016
Kerry demanding as unremovable condition that Israel go back to pre-67 lines unless negotiated – but aft that declaration nothing 2 negot

— Legal Insurrection (@LegInsurrection) December 28, 2016
Principle #1: Secure 1967 borders Israel and Palestinian Authority with mutually-agreed land swaps #KerrySpeech

— Robert Nicholson (@rwnicholson_) December 28, 2016
Principle #2: Fulfill vision of UN Resolution 181 (1947) of two states for two people #KerrySpeech

— Robert Nicholson (@rwnicholson_) December 28, 2016
Principle #3: Provide for a just solution to the Palestinian refugee problem #KerrySpeech

— Robert Nicholson (@rwnicholson_) December 28, 2016
Principle #4: Provide an agreement for Jerusalem as capital of both states with guarantees for holy sites #KerrySpeech

— Robert Nicholson (@rwnicholson_) December 28, 2016
Principle #5: Satisfy Israel's security needs and bring a full end to occupation, with non-militarized Palestinian state #KerrySpeech

— Robert Nicholson (@rwnicholson_) December 28, 2016
Kerry call for non-militarized Palestinian state is first good idea he's had in this speech, but won't fly bc Hamas, Hezbollah, Iran etc

— Legal Insurrection (@LegInsurrection) December 28, 2016
Principle #6: End the conflict and all outstanding claims, normalize relations as envisioned by Arab Peace Initiative #KerrySpeech

— Robert Nicholson (@rwnicholson_) December 28, 2016
Completely missing from Kerry's speech is recognition that UN Resolution 2334 made everything else he said in speech less likely to happen

— Legal Insurrection (@LegInsurrection) December 28, 2016