Posted by
William A. Jacobson
Sunday, November 6, 2016 at 8:45am
| 11/6/2016 - 8:45am
Stop these thieves from stealing more Jewish history.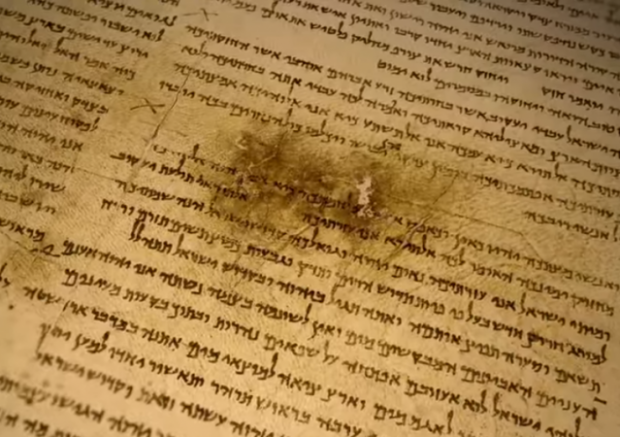 If it were anywhere other than UNESCO, I'd say this sick attempt to rewrite history would surely fail.
But it's UNESCO, which has been attempting to scrub the Jewish history of the Temple Mount. It's part of the global antisemitic propaganda war against Israel that invents a fictitious ancient "Palestine" that never existed as a nation or political entity (much less one controlled by ancestors of those who now identify as Palestinians) and seeks to deny Jews their own indigenous history and thereby to justify the informational Holy Jihad being waged against Israel. They even claim Jesus as a "Palestinian."
This time, the Dead Sea Scrolls (digitized here) are at issue.
The Jerusalem Post reports, Palestinians make a play for Dead Sea Scrolls at UNESCO:
The Palestinian Authority is preparing to lay a claim to the Dead Sea Scrolls at the United Nations Education, Scientific and Cultural Organization, Israel Radio reported on Saturday night.

"This is another provocative and audacious attempt by the Palestinians to rewrite history and to erase our connection to our land," Ambassador to UNESCO Carmel Shama-Hacohen said. "The Dead Sea Scrolls are factual and weighty archeological evidence of the presence of the Jewish people in the Land of Israel."

The scrolls – a large cache of mostly Hebrew writings from the Second Temple period and its immediate aftermath – were discovered in Qumran between 1947 and 1956. They include many biblical texts and are believed to have been penned by members of a Jewish sect known as the Essenes.

Qumran, which is near the Dead Sea, was under British, and later Jordanian, rule at the time of the discoveries.

It is now located in Area C of the West Bank, which is under Israeli civil and military control.

The PA considers Area C to be part of its future state.

Qumran is on the list of preservation areas which the PA wants to see registered under the "state of Palestine" on the World Heritage List.
They are not just talking about it, they've already started the process, the Post further reports:
In addition, it plans to bring the matter up before the Intergovernmental Committee for Promoting the Return of Cultural Property to its Countries of Origin or its Restitution in Case of Illicit Appropriation, a committee that operates in an advisory capacity to UNESCO.

According to Shama-Hacohen, the Palestinians brought the matter up informally to the committee when it met in Paris at the end of September.

They asked the group to help the PA obtain the scrolls from Israel, with the claim that given the location of the find, they are historical artifacts which belong to the Palestinians. The PA intends to raise the issue formally when the committee convenes again next year, he said.
Still attempting to steal Jewish history the absurd Palestinians now demand the "return" of the Dead Sea Scolls https://t.co/9OU8SwpL0o

— (((Margie))) (@MargieInTelAviv) November 6, 2016
UPDATE: To mock this latest Palestinian historical theft, a Twitter hashtag has started #PalestinianClaims. Here are some tweets:
An anecdote of my visit to the Museum of #Palestinian History. #PalestinianClaims pic.twitter.com/JT5nXifUCl

— Danny Ayalon (@DannyAyalon) November 6, 2016
#PalestinianClaims "Palestine" is one million years old…no seriously, they do. https://t.co/wKxCj4GzMV

— StandWithUs (@StandWithUs) November 6, 2016
#Palestinianclaims that important picture is returned to them without delay or they will table a motion at #UNESCO! pic.twitter.com/MSCnacrQEO

— SussexFriendsIsrael (@SussexFriends) November 6, 2016
#PalestinianClaims Jesus was a Muslim. [Actually they do… I was trying to joke but I can't make up anything sillier than that]

— Brian of London PhD (@brianoflondon) November 6, 2016