Posted by
Kemberlee Kaye
Wednesday, November 2, 2016 at 1:00pm
| 11/2/2016 - 1:00pm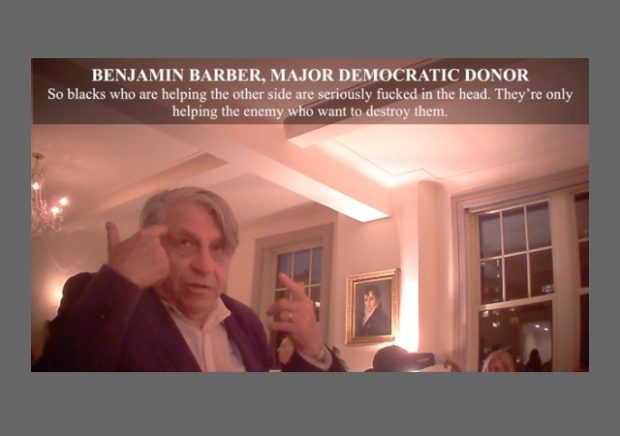 Less than a week before Election Day and Project Veritas released yet another undercover video showing yet another high ranking Democrat behaving badly. Though I'd argue this one crosses into "sick" territory.
At a fundraiser for Democratic U.S. Senate Candidate, Deborah Ross, fundraiser Benjamin Barber was captured on tape disparaging the African American community that refuses to vote Democrat. Not only did Barber say that blacks who "helped the other side are seriously f***ed in the head," he compared them Jews who aided Nazis.
Project Veritas Action explained:
In the video, prominent Ross donor Benjamin Barber expresses his opinion about blacks who vote Republican by comparing them to Nazis.

"Have you heard of the Sonderkommandos? Jewish guards who helped murder Jews in the camps. So there were even Jews that were helping the Nazis murder Jews! So blacks who are helping the other side are seriously fucked in the head. They're only helping the enemy who will destroy them. Maybe they think 'if I help them we'll get along okay; somehow I'll save my race by working with the murderers,'" said Barber at a fundraiser for Ross on the Upper West Side of New York City on September 19, 2016.
Watch here:
President of Project Veritas, James O'Keefe has asked Ross to denounce Barber's comments:
Will @DeborahRossNC renounce the comments that were caught on camera at her fundraiser? Ask her. #Barber https://t.co/VqaCvwDKc7

— James O'Keefe (@JamesOKeefeIII) November 2, 2016
And is also asking Barber donation recipients if they'll be returning donations in light of his recently exposes remarks:
Will @DeborahRossNC renounce the comments that were caught on camera at her fundraiser? Ask her. #Barber https://t.co/VqaCvwDKc7

— James O'Keefe (@JamesOKeefeIII) November 2, 2016
Follow Kemberlee on Twitter @kemberleekaye