Posted by
William A. Jacobson
Saturday, October 8, 2016 at 10:00am
| 10/8/2016 - 10:00am
just before a long holiday weekend.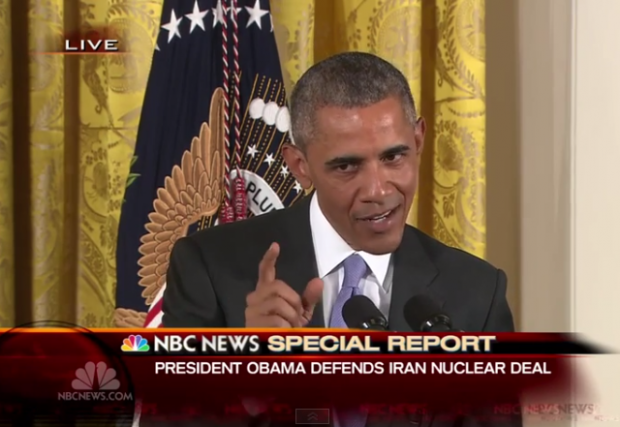 The media is all consumed with fat-shaming and Trump's 2005 comments. In the meantime, the Obama administration further proved that the Iranian nuclear deal was misrepresented to the public and that it was about empowering Iran as a regional power.
The AP reports, US further eases Iran sanctions after nuclear deal (h/t Jonathan Schanzer Twitter):
The Obama administration is further easing sanctions on Iran, making it easier for foreign firms to do business with the country following last year's nuclear deal.

Shortly before 6 p.m. Friday at the start of the Columbus Day holiday weekend in the United States, the Treasury Department published new guidance for businesses that said some previously prohibited dollar transactions with Iran by offshore banking institutions are allowed as long as they do not enter the U.S. financial system.

The clarifications from Treasury's Office of Foreign Assets Control also remove a blanket ban on foreign transactions with Iranian firms that may be controlled by a person who remains subject to U.S. sanctions.

Despite the nuclear agreement, which gave sanctions relief to Iran in return for it curtailing its nuclear program, the U.S. maintains sanctions on Iran and certain Iranian companies and people. They are known as "specially designated nationals" or SDNs, for a variety of reasons, including its ballistic missile program, human rights record and support for groups the U.S. deems to be terrorist organizations.

The new Treasury language says foreign transactions with non-sanctioned entities that are nonetheless "minority owned" or "controlled in whole or in part by an Iranian or Iran-related person on the SDN list" are "not necessarily sanctionable" under U.S. regulations.
In their Friday night news dump, Obama administration green lights offshore use of US dollar involving Iran. https://t.co/3fjTBQ2FzF

— Mark Dubowitz (@mdubowitz) October 7, 2016
Unless I misread M10: Obama just green lighted biz with Iranian entities minority owned or controlled (<50%) by IRGC https://t.co/3fjTBQ2FzF

— Mark Dubowitz (@mdubowitz) October 7, 2016
M12: Obama just weakened due diligence requirements for banks doing business with Iran. https://t.co/3fjTBQ2FzF

— Mark Dubowitz (@mdubowitz) October 7, 2016
Obama admin specializes in hiding its concessions to Iran. Latest one on a Friday night before long weekend: https://t.co/3fjTBQ2FzF

— Mark Dubowitz (@mdubowitz) October 7, 2016