Posted by
Kemberlee Kaye
Wednesday, October 26, 2016 at 9:00am
| 10/26/2016 - 9:00am
Your guess is as good as mine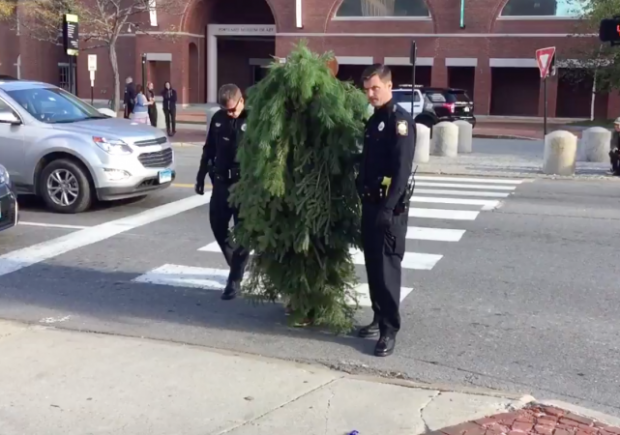 Clad in some kind of evergreen garland, a man dressed as a tree was arrested for obstructing traffic in Portland, Maine.
From the AP:
PORTLAND, Maine (AP) — Police say they've arrested a man dressed as a tree for blocking traffic in Maine.

They say the man didn't respond to officers when they warned him against obstructing traffic in a busy intersection in downtown Portland.
And of course there's video:
Police have arrested a man dressed as tree for blocking traffic on Congress Street…as God is my witness. pic.twitter.com/VUFQY6Vyv0

— TVTEDDY (@TVTEDDY) October 24, 2016
Why was he dressed in arboreal fashion? To study the city's traffic patterns, says a friend of the man-tree.
He did not respond to any questions. A friend tells us he was studying the city's traffic patterns. pic.twitter.com/imJA5ygWky

— TVTEDDY (@TVTEDDY) October 24, 2016
Here is some more pre-arrest video of tree guy blocking traffic. pic.twitter.com/lCP7IngYB3

— TVTEDDY (@TVTEDDY) October 25, 2016
Follow Kemberlee on Twitter @kemberleekaye