Posted by
William A. Jacobson
Wednesday, October 19, 2016 at 10:57pm
| 10/19/2016 - 10:57pm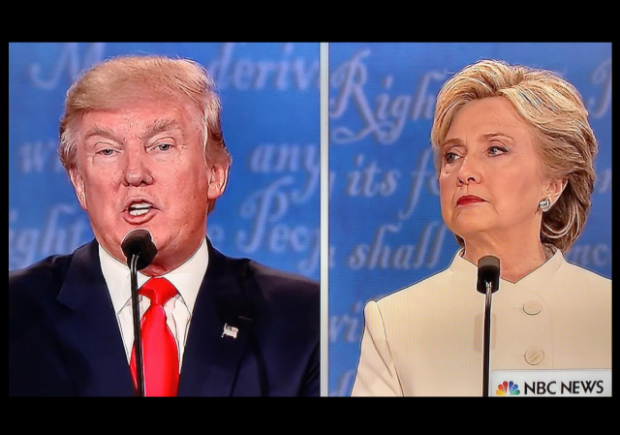 I don't have a clear "who won" reaction.
Trump was more subdued than usual for the first part of the debate, and he seemed to do well. He missed a huge point on the Heller decision — which Hillary absolutely falsely described as an issue of protecting toddlers. As things heated up, Trump again scored points, particularly on the Clinton foundation and Hillary making a mess of the world. He also did well on immigration.
BUT, as usual, Trump gave the media something to talk about that likely hurts him — declining to say whether or not he would accept the outcome of the election. In a prior debate he said he would, but now no? It's all the media is going to want to talk about.
Hillary stuck to her script, and scored points on the allegations against Trump by various women who came forward. Hillary had her zingers ready, and the ones on Trump using Chinese steel and Trump having a personality disorder (not the phrase she used, but that's what she was getting at) in which he claims everything is rigged against him, were used to great effect.
Will it change the polls at all? As mentioned after the last debate, I'm out of that business.
Here's my Quick Hit for tomorrow's Morning Insurrection (if you don't subscribe yet, you are missing content not on the website. You can sign up here):
"SAD! That's how I felt watching last night's presidential debate. In a country of over 300 million people, how did we end up with these two? They are each deplorable in their own special ways. I'll take one deplorable from column A, and a second deplorable from column B."
Here's some of what I was tweeting as the night went on.
Oh, I see. The District just wanted to "protect toddlers" by effectively banning all private ownership of firearms.

— jimgeraghty (@jimgeraghty) October 20, 2016
DC banned guns in Heller. Period. Hillary isn't telling the truth. #debatenight

— Lee Doren (@LDoren) October 20, 2016
Hillary objects very strongly to someone accurately describing what happens in a late-term abortion. #debatenight

— Ian Tuttle (@iptuttle) October 20, 2016
"We have some bad hombres here and we're going to get them out." – Trump

— Noah Rothman (@NoahCRothman) October 20, 2016
This is a focus group of Nevada voters.

Trump does stronger than Hillary on immigration. #Debate pic.twitter.com/HBdrTYjN6g

— Frank Luntz (@FrankLuntz) October 20, 2016
Voters do not want to hear Hillary blame Russia. Her numbers tanked during her anti-Putin rant. #Debate pic.twitter.com/p81KwoZlIZ

— Frank Luntz (@FrankLuntz) October 20, 2016
Somehow, Trump successfully weaponized Hillary's experience *against* her.

Voters like that he held the State Dept. accountable. #Debate pic.twitter.com/dQraWaNwwa

— Frank Luntz (@FrankLuntz) October 20, 2016
When Trump zeroes in on NAFTA, TPP, and trade, he wins.

If he wants to win in November, he should stay on trade. #debate pic.twitter.com/RrZCooPyBt

— Frank Luntz (@FrankLuntz) October 20, 2016
Hillary's Clinton Foundation answer was a disaster.

Trump scored yet again by pointing out its corruption. #debate pic.twitter.com/dgFH3oPg4D

— Frank Luntz (@FrankLuntz) October 20, 2016
Wallace asks Trump if he will accept the result of the election:

TRUMP: "I will look at it at the time"

— Oliver Darcy (@oliverdarcy) October 20, 2016
TRUMP: "What I am saying is I will tell you at the time. I will keep you in suspense."

Clinton calls comments "horrifying"

— Oliver Darcy (@oliverdarcy) October 20, 2016
Voters want the candidates to support the election results. No excuses.

Hillary did. Trump did not. #Debate pic.twitter.com/LH7J4JPMC2

— Frank Luntz (@FrankLuntz) October 20, 2016
When Trump focuses on the failures and absurdities of Clinton/Obama foreign policy, even Hillary-leaners give him solid scores. #DebateNight pic.twitter.com/FtHlhCwktv

— Frank Luntz (@FrankLuntz) October 20, 2016
Who won tonight's debate?

• 14 say Trump
• 12 say Clinton#DebateNight pic.twitter.com/jDV5RP9eno

— Frank Luntz (@FrankLuntz) October 20, 2016
Some highlight clips: