Posted by
Mary Chastain
Tuesday, September 27, 2016 at 11:30am
| 9/27/2016 - 11:30am
No, stupid politicians are not a legit excuse to call 911.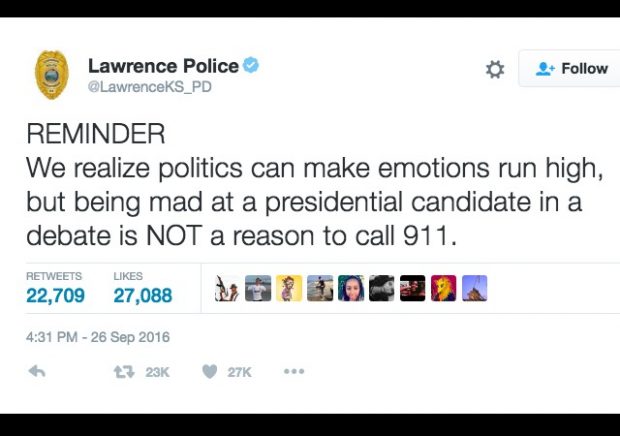 Presidential debates tend to cause anger, especially this year since we're stuck with Donald Trump and Hillary Clinton. But apparently these candidates have really struck a nerve with people in Kansas:
REMINDER
We realize politics can make emotions run high, but being mad at a presidential candidate in a debate is NOT a reason to call 911.

— Lawrence Police (@LawrenceKS_PD) September 26, 2016
The local news does not know how many people called 911, but I think it's safe to assume they received enough to warrant a tweet.
They also advised against drinking games during the debates:
Additionally, drinking games where you drink every time someone says "yuge" leads to binge drinking, and we discourage that strongly

— Lawrence Police (@LawrenceKS_PD) September 26, 2016