Posted by
William A. Jacobson
Thursday, September 22, 2016 at 5:00pm
| 9/22/2016 - 5:00pm
How nice to hear a leader of a democracy who has unequivocal love for his country.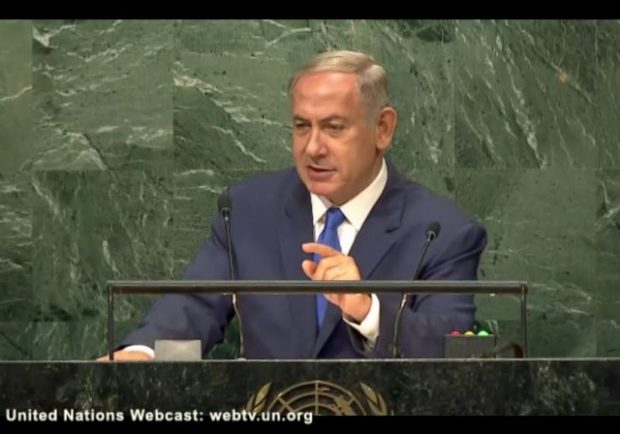 Benjamin Netanyahu spoke at the U.N. today.
As usual, it was an excellent speech.
The headline is that Netanyahu offered to have Palestinian President speak at the Israeli Knesset (parliament) and for Netanhahu to speak at the parliament in Ramallah.
President Abbas, I invite you to come and speak at the Knesset in Jerusalem and I will gladly come to speak at the parliament in Ramallah

— PM of Israel (@IsraeliPM) September 22, 2016
Put aside intentions, there will be some hurdles to overcome if Netanyahu is to speak to the Palestinian parliament. It hasn't met since 2007.
The speech was optimistic and defiant as regards the relentless attacks on Israel at the U.N.
One of the funniest parts was when Netanyahu mocked Palestinian's threat to sue Britain for the Balfour Declaration (I'll add a video clip when I can find it, but you can click here to the point in the full speech where it takes place.)
If UN habits die hard, Palestinian habits die even harder. President Abbas just attacked from this podium the Balfour Declaration from 1917.

— PM of Israel (@IsraeliPM) September 22, 2016
PM Netanyahu at #UNGA: To sue the British government for the Balfour Declaration is absurd.

— PM of Israel (@IsraeliPM) September 22, 2016
Here are some other highlights as tweeted by Netanyahu's official account:
This conflict was never about the settlements but the existence of a Jewish State. I will never negotiate our right to the only Jewish state

— PM of Israel (@IsraeliPM) September 22, 2016
PM Netanyahu at #UNGA: Had the Palestinians said yes to a Jewish State in 1947, there would have been no war, no refugees, and no conflict.

— PM of Israel (@IsraeliPM) September 22, 2016
We will not accept any attempt by the UN to dictate terms to Israel. The road to peace runs through Jerusalem and Ramallah, not through NY.

— PM of Israel (@IsraeliPM) September 22, 2016
The full video is below: