Posted by
Mark Finkelstein
Thursday, September 15, 2016 at 10:00am
| 9/15/2016 - 10:00am
Americans of color to Hillary's rescue?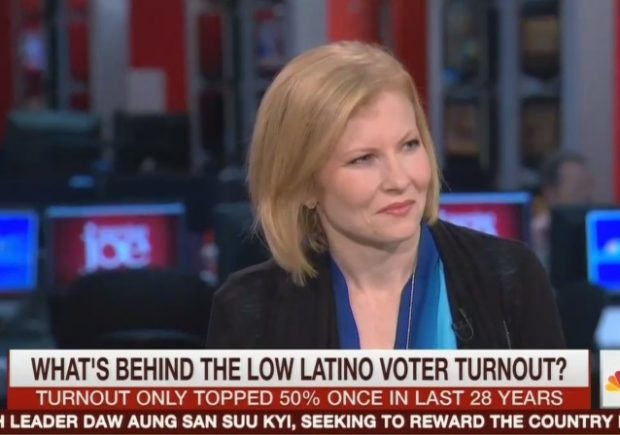 Americans of color to the rescue? That's how MTV's Ana Marie Cox sees it. Appearing on today's Morning Joe, Cox said: "I feel like if Hillary Clinton wins in the fall, it will be because the black and brown people of America have saved us, like they do a lot of time."
Cox, perhaps best known as founder of the Wonkette blog, was preceded on set by Marcela Valdes of the New York Times, whose recent article noted the lack of political engagement in Latino culture [emphasis added]: "through all my conversations, I began to fear the real roots of political engagement, which lie not in quadrennial outreach programs but around dinner tables and in churches and classrooms, are far more absent from Latino life in America than most people understand."

MIKA BRZEZINSKI: We're joined now by MTV News senior politicals correspondent Ana Marie Cox. She joins the table. Welcome back. So, if you look at the polls nationally in some key battleground states, this race is a lot closer than I think one sitting around this table might expect it to be. And I'm looking right at you. What do you make of that, especially given your reporting?
ANA MARIE COX: Well, I think that it was interesting listening to her, listening to Martha's [sic] analysis there. Part of me wonders about the voter-modeling turnout and whether or not that's going to turn out to be accurate moving forward. I do know that there's been a problem with Latino turnout, and I also feel personally that if — I feel like if Hillary Clinton wins in the Fall, it will be because the black and brown people of America have saved us, like they do a lot of time."