Posted by
Mary Chastain
Monday, September 19, 2016 at 5:34pm
| 9/19/2016 - 5:34pm
Tell that to the 29 injured.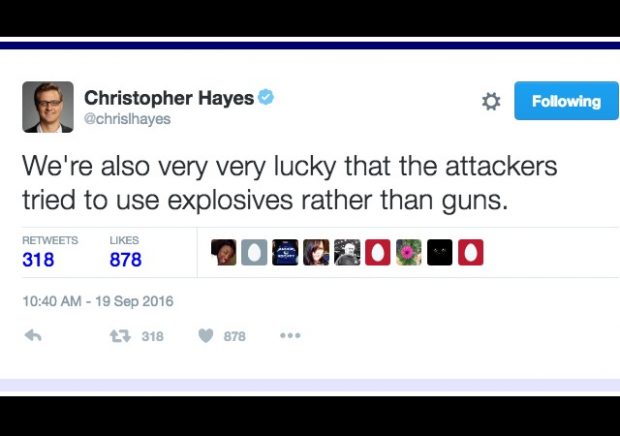 On Saturday night, a pressure bomb exploded in the Chelsea neighborhood of Manhattan, leaving 29 people injured.
Despite that pesky fact, MSNBC's Chris Hayes is thankful it was a BOMB, not a gun.
We're also very very lucky that the attackers tried to use explosives rather than guns.

— Christopher Hayes (@chrislhayes) September 19, 2016
I wonder if he would say that to those injured by the bomb. Anyway, the people of Twitter had a field day.
Haye's pal, Sam Stein, decided to join in.
@chrislhayes and knives rather than a gun in Minnesota

— Sam Stein (@samsteinhp) September 19, 2016
A man stabbed nine people at a Minnesota mall over the weekend. But guess what! An OFF-DUTY COP SHOT the suspect before he could do more harm. Hhhhmmmm… interesting fact.
@chrislhayes He shot a cop this morning. One person. His bomb injured 29, and could have been a lot more deadly.

— Charles C. W. Cooke (@charlescwcooke) September 19, 2016
@charlescwcooke @chrislhayes the Bath School victims would disagree Chris…

— F. Bill McMorris (@FBillMcMorris) September 19, 2016
In 1927, Andrew Kehoe bombed the Bath Consolidated School in Bath Township, Michigan. The explosion killed 38 children and six adults, leaving 58 injured.
@chrislhayes Indeed. pic.twitter.com/mc8mjJv9JP

— Bob Owens (@bob_owens) September 19, 2016
That picture is the Alfred P. Murrah Federal Building in Oklahoma City after Timothy McVeigh detonated a bomb there on April 19, 1995. The explosion killed 168 people and injured 680 others. The victims ranged between 3 months to 73 years old. In total, 19 children died.
Lucky. @chrislhayes

(also, fuck you.) pic.twitter.com/PETkoMPv5k

— THE Chris Coon (@Coondawg68) September 19, 2016
The Boston Marathon bombing on April 15, 2013, killed 3 people and injured 264. The bombers also used pressure cooker bombs. These are the victims:
@chrislhayes I know. I am sure these 3 were very lucky that a gun wasn't used in Boston as well. pic.twitter.com/vj8kCA2mn0

— richard nusbaum (@attyrik) September 19, 2016
.@chrislhayes Um he shot 2 cops. They shot back. The end.

— Lee Doren (@LDoren) September 19, 2016
Pesky little fact that guns actually helped the police capture Ahmad Khan Rahami, the man behind the attack. Oh wait. Rahami had a gun on him when police surrounded him:
An eyewitness to Rahami's capture in Linden, NJ told Fox News that he saw a man walking down a street with a gun in his hand. A police car pulled up next to him and the man fired at cops 4-6 times. The shooter then began running down the street with several police cars trailing him, the witness, Peter Bilinskas, said.
The police also linked him to a bomb that exploded in New Jersey on the same route at a Marine Corps charity run.
Later Sunday night, the police found a "backpack with multiple bombs inside" in Elizabeth, New Jersey.