Posted by
Mary Chastain
Friday, July 8, 2016 at 12:05am
| 7/8/2016 - 12:05am
One suspect in custody, another dead.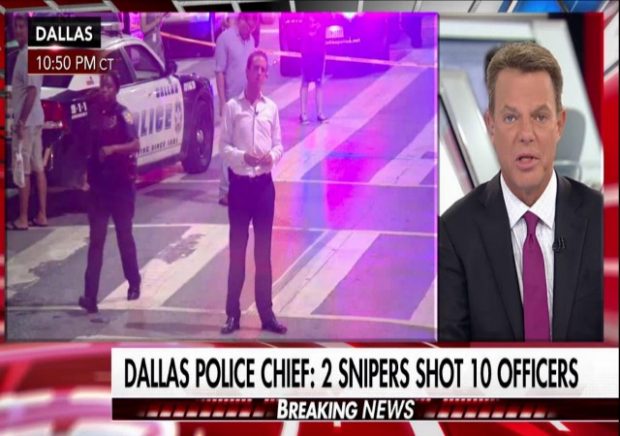 Snipers shot 11 officers in Dallas, TX, during a protest over the shootings by police in Louisiana and Minnesota.
Police have both suspects in custody.
Dallas PD confirms both suspects are in custody,

Thank God.

— Michelle Ray (@GaltsGirl) July 8, 2016
A fourth has passed away.
With heavy hearts, we are devastated to report a fourth officer has been killed.

— Dallas Police Depart (@DallasPD) July 8, 2016
#BREAKING: Our cameras captured several shots ring out during a protest in Downtown Dallas pic.twitter.com/OWOBOOI8Jg

— FOX 4 NEWS (@FOX4) July 8, 2016
Now the department says the snipers shot 11 officers.
.@ShepNewsTeam: "Now it appears…3 Dallas…police officers are dead and 1 DART officer has been killed." pic.twitter.com/MiUo3exfXJ

— Fox News (@FoxNews) July 8, 2016
The suspects shot the officers from an elevated position. Two officers are currently in surgery while three remain in critical condition.
Despite reports, officers do not have any suspects in custody.
Dallas police: 11 officers shot ambush style, suspects threatened to plant bomb in downtown https://t.co/nJAelpJsQo pic.twitter.com/K8JIeTgtMW

— Jon Passantino (@passantino) July 8, 2016
"An intensive search'' for #Dallas shooting suspects is currently underway https://t.co/tEcAKHjR6T pic.twitter.com/ZlFlwoT6Rs

— The Boston Globe (@BostonGlobe) July 8, 2016
Governor Abbott released this statement:
Texas Gov. Abbott: "Our thoughts and prayers are with the Dallas law enforcement community" pic.twitter.com/IOJeWG522S

— Oliver Darcy (@oliverdarcy) July 8, 2016
#BREAKING: ATF officers wearing ballistic helmet, vest now on scene as more Homeland Security arrive downtown. pic.twitter.com/jV3q9xTse1

— Jason Whitely (@JasonWhitely) July 8, 2016
[Featured image via Twitter]