Posted by
Mary Chastain
Monday, June 27, 2016 at 11:32am
| 6/27/2016 - 11:32am
They believe that setting up meetings or events do not qualify as an official act.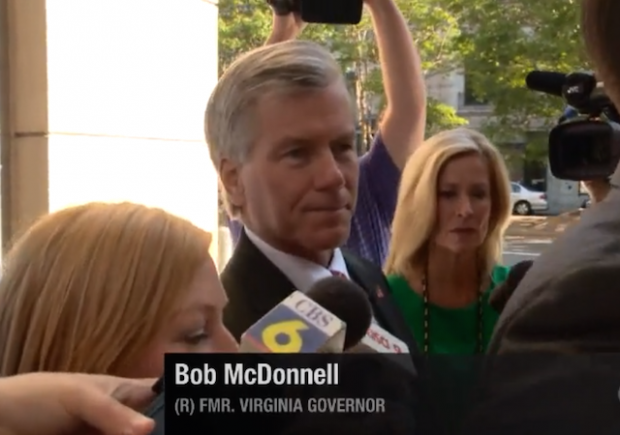 The Supreme Court unanimously overturned Former Virginia Gov. Bob McDonnell's bribery conviction.
They do not think the prosecutors proved "he took significant official actions in exchange for the $175,000 in gifts and loans he received from a wealthy businessman."
From The Washington Post:
The decision was written by Chief Justice John G. Roberts Jr.

"If the court below determines that there is sufficient evidence for a jury to convict Governor McDonnell of committing or agreeing to commit an 'official act,' his case may be set for a new trial," Roberts wrote. "If the court instead determines that the evidence is insufficient, the charges against him must be dismissed. We express no view on that question."

Roberts added: "There is no doubt that this case is distasteful; it may be worse than that. But our concern is not with tawdry tales of Ferraris, Rolexes, and ball gowns. It is instead with the broader legal implications of the government's boundless interpretation of the federal bribery statute."

—

In Monday's ruling, Roberts wrote: "Setting up a meeting, calling another public official, or hosting an event does not, standing alone, qualify as an 'official act.'"

He said that for prosecutors to prevail, they must identify a "question, matter, cause, suit, proceeding or controversy" that "may at any time be pending" or "may by law be brought" before a public official."
"Conscientious public officials arrange meetings for constituents, contact other officials on their behalf, and include them in events all the time. The basic compact underlying representative government assumes that public officials will hear from their constituents and act appropriately on their concerns—whether it is the union official worried about a plant closing or the homeowners who wonder why it took five days to restore power to their neighborhood after a storm," Roberts wrote.

"The Government's position could cast a pall of potential prosecution over these relationships if the union had given a campaign contribution in the past or the homeowners invited the official to join them on their annual outing to the ballgame. Officials might wonder whether they could respond to even the most commonplace requests for assistance, and citizens with legitimate concerns might shrink from participating in democratic discourse," the chief justice added.
Justice Stephen Bryer also expressed "concern that the Justice Department could wield 'enormous power' and that prosecutors could be 'overly zealous.' He also repeatedly stressed concern that such laws could put at risk 'behavior that is common.'"
However, Justice Sonia Sotomayor, felt that McDonnell wanted to help his friend:
Trial testimony and exhibits, she said, showed that University of Virginia officials "felt pressured" to conduct the studies. "They perceived that he was trying to influence them," she said.
In September 2014, a grand jury found McDonnell guilty of conspiracy, bribery, and extortion after "he and his wife received money and loans (around $175,000 and a Rolex watch) from Jonnie R. Williams, the CEO of a Virginia based company called Star Scientific." In exchange, he used his power as governor "to help Williams' company."
The decision could affect other officials who have faced bribery accusations:
McDonnell's lawyers contended that he did nothing unusual to help Williams, a friend of his wife's, nor asked anyone else to do so. Phone calls and referrals to government agencies, they said, were routine actions.

"Officials routinely arrange meetings for donors, take their calls, politely listen to their ideas and refer them to aides," Noel Francisco argued in legal papers. "In criminalizing those everyday acts, the government has put every federal, state, and local official nationwide in its prosecutorial crosshairs."
But Roberts did not excuse McDonnell's behavior:
"None of this, of course, is to suggest that the facts of this case typify normal political interaction between public officials and their constituents" he wrote. "Far from it. But the government's legal interpretation is not confined to cases involving extravagant gifts or large sums of money, and we cannot construe a criminal statute on the assumption that the government will 'use it responsibly.'"