Posted by
Mary Chastain
Friday, June 24, 2016 at 3:30pm
| 6/24/2016 - 3:30pm
Everyone Has Something to Say – Politicians to Hollywood to ordinary people with memes!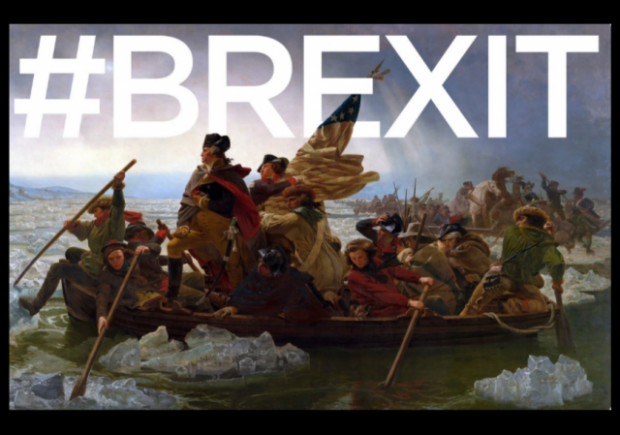 So last night the United Kingdom voted to leave the European Union. Of course, everyone has an opinion. When I say everyone I mean everyone.
This is by far the best reaction. Of course, I'm biased since I'm American.
Imma let you finish, #EUref, but #USA had the best #Brexit of all time.

— Mr. ✘ (@GlomarResponder) June 24, 2016
Second best tweet:
#Brexit, or something. pic.twitter.com/ZYYbpzalHk

— Aram Vartian (@vartian) June 24, 2016
Nigel Farage, who initially conceded when he saw exit polls and then changed his mind and then changed it again, celebrated the UK's Independence Day.
We've left behind a failed political union. We can now rejoin the world as an independent, self-governing nation.https://t.co/oqMbzLWhqO

— Nigel Farage (@Nigel_Farage) June 24, 2016
Prime Minister David Cameron resigned. He campaigned to remain in the EU.
UK PM @David_Cameron on his decision to resign after Britain votes to leave the EU https://t.co/FiKp9vgjtF #Brexit pic.twitter.com/8MCkpjS59m

— Fox News (@FoxNews) June 24, 2016
Presidential candidates also reacted:
"We respect the choice the people of the United Kingdom have made." —Hillary #BrexitVote pic.twitter.com/58yM8oDkL6

— Hillary Clinton (@HillaryClinton) June 24, 2016
Self-determination is the sacred right of all free people's, and the people of the UK have exercised that right for all the world to see.

— Donald J. Trump (@realDonaldTrump) June 24, 2016
America is proud to stand shoulder-to-shoulder w/a free & ind UK. We stand together as friends, as allies, & as a people w/a shared history.

— Donald J. Trump (@realDonaldTrump) June 24, 2016
The EU showed solidarity with themselves as they are now 27 instead of 28.
On behalf of all 27 leaders: We are determined to keep our unity as 27

— Donald Tusk (@eucopresident) June 24, 2016
I respect but regret the outcome #Brexit. Lux continues to work for a strong EU

— Bettel Xavier (@Xavier_Bettel) June 24, 2016
IMF Chief Christine Lagarde wants some clarity on the process.
IMF chief Christine Lagarde urges "clarity" in negotiation process over #Brexithttps://t.co/slOCKdj5NP https://t.co/FtYUsEJcVa

— BBC News (UK) (@BBCNews) June 24, 2016
President Frank Underwood had a few words, too.
That's enough fun for one evening. #Brexit pic.twitter.com/zg149kEoVY

— House of Cards (@HouseofCards) June 24, 2016
Is Lindsay Lohan British? Her tweets made it sound like the Brexit decision really affects her or something. The tweets were gone this morning, but screenshots are forever.
#EUref: It's still too early to make a call, but Lindsay Lohan has weighed in https://t.co/EvMNhUddu8 pic.twitter.com/ar4kdarrVZ

— BuzzFeed News (@BuzzFeedNews) June 24, 2016
Cher joined in as well.
Cher's twitter meltdown over #brexit was way better than LiLo's, tbqh: https://t.co/sqyECwI5qb pic.twitter.com/s58AKEnwd7

— Asawin Suebsaeng (@swin24) June 24, 2016
The famous crying Jordan face made quite a few appearances.
@sgt_pepper19 @LiamCurran5x I'm not breaking dowwwnnnnn I'm breaking outttttttt #Brexit pic.twitter.com/LCfMoa3ysJ

— Fitzy Mo Peña (@BfitzP17) June 24, 2016
The Internet has to chill #Brexit pic.twitter.com/NpsutYvkK6

— Internet Palace (@InternetPalace) June 24, 2016