Posted by
Kemberlee Kaye
Saturday, June 18, 2016 at 11:00am
| 6/18/2016 - 11:00am
"We did not know that Mr. Kuntzman would completely turn things around and make our establishment look like one of anti-gun advocates."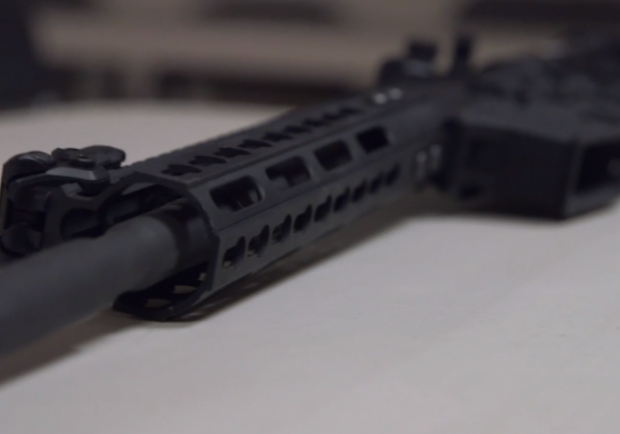 The reader may remember NY Daily News reporter, Gersh Kuntzman, and his harrowing tale of the AR-15 that bruised his shoulder and gave him PTSD.
After his article was published, the gun shop that accommodated his request was, "disgusted" and has mounted an effort to have Kuntzman's article taken down.
"We acknowledged his offer so that we could prove that an AR-15 is indeed a great and safe weapon as stated in the video," Frank's Gun Shop Double Tap Shooting Range posted to their Facebook page, "To our knowledge we did not know that Mr. Kuntzman would completely turn things around and make our establishment look like one of anti-gun advocates."
They continued:
I can assure everyone that we do not support mental health screenings like they do in Europe and we don't think that government officials should take away guns from people as it was portrayed in the article. Currently we are doing everything we can to take this article down because after reading it we are just as disgusted about it as all of you are. Our team here at Double Tap would like to sincerely apologize for the misunderstanding and report that we are doing everything in our power to get this article removed. I implore all of our supporters to share our apology with everyone in-order to help defend ourselves from the media who is doing anything in their power to blemish the face of all gun owners and attempting to add more rule to the fire of the attempt of the liberal gun-grabbing agenda.

To those that are writing negative reviews about us, please understand we had no intentions of having this article cause such an issue, nor intentions of us looking like anti gun advocates but, to educate which in turn did the complete opposite due to Mr. Kuntzman.
As to Kuntzman's bruised shoulder? " And for the record, if you get a bruised shoulder or PTSD from shooting an AR-15 you may be a Katie Couric, liberal with ought [sic] testicular fortitude," writes Double Tap.
The entire statement is here: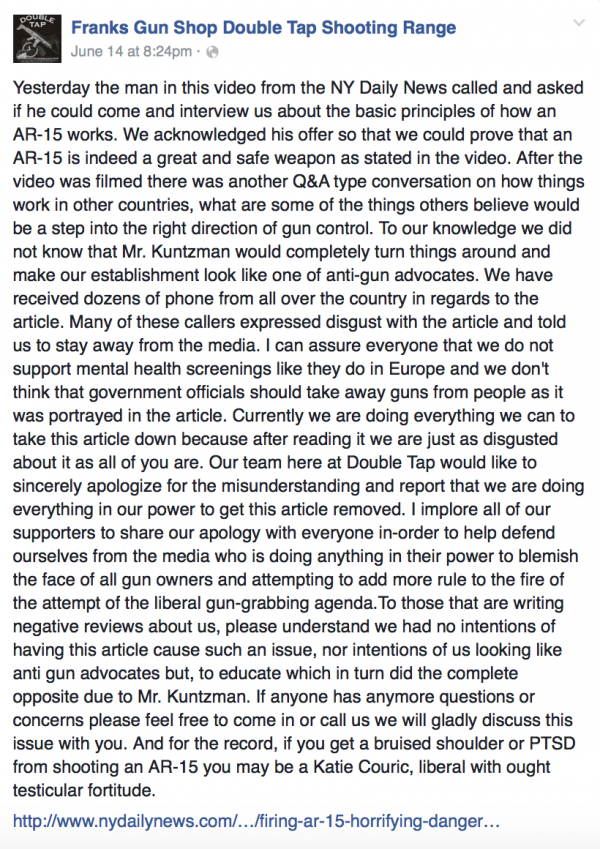 Follow Kemberlee on Twitter @kemberleekaye