Posted by
Mary Chastain
Friday, May 27, 2016 at 1:00pm
| 5/27/2016 - 1:00pm
Turmoil in Libya allows ISIS fighters to infiltrate migrant routes into Europe.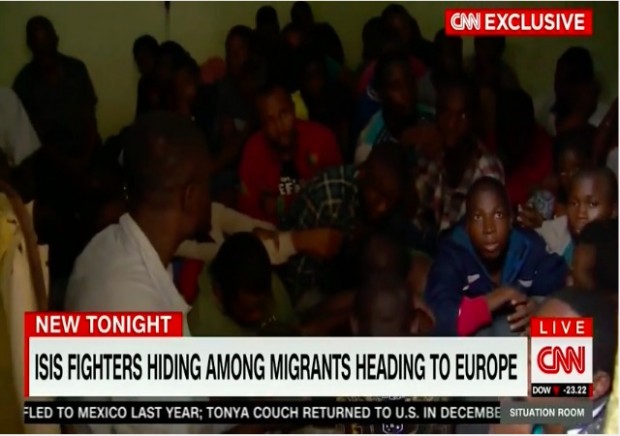 The Islamic State (ISIS/ISIL) continues to take advantage of the migrant issue by blending their fighters and shipping them through Europe.
Smuggler Abu Walid told CNN that ISIS has contacted people in his business in Libya in the past two months, offering up to $40,000 for 25 people. Libyan officials told the new outlet they have found ISIS members attempting to sneak into Europe disguised as migrants seeking a better life:
A senior Libyan military intelligence official in Misrata, Ismail Shukri, said that ISIS militants sought to disguise themselves by traveling with "their families, without weapons, as normal illegal immigrants."

"They will wear American dress and have English language papers so they cause no suspicion."
Libya has descended into chaos after the fall of Muammar Gaddafi four years ago. ISIS has used the chaos to push their way through the country and take over key port cities. CNN reported from Misrata when two suicide bombers blew themselves up in an armored car. The reporters heard people claim the eastern part of the country joined sides with ISIS and blamed them for the attack that killed nine and injured 110.
Last month, Gen. David M. Rodriguez told reporters the U.S. found between 4,000 to 6,0000 ISIS fighters in Libya and the number "probably about doubled in the last 12 to 18 months."
But ISIS in these port cities should not shock anyone. In January 2015, the Libyan media discovered that ISIS wanted to use their country as a gateway to Europe to spread their terror. Former Libyan Prime Minister Ali Zeidan even said that ISIS would eventually control the shores of Libya.
U.S. officials told Fox News three months later that ISIS found safety within Libya and looked to grow in the war-torn country.
The Sicilian Island of Pantelleria lies just across from Libya where the U.S. government conducts "reconnaissance missions over Northern Africa, especially Libya." From there, U.S. troops land on Libya. One Libyan official told CNN "that about a dozen American Special Forces were working out of a nearby military base." Despite the equipment and men, Misrata forces commander Mahmoud Gazwan stressed to Reuters that ISIS has grown "because no one is fighting them." The U.S. officials want a steady government, but Gazwan wants more bombing and attacks.
British Prime Minister David Cameron told the G7 summit that the United Kingdom will "send Royal Navy warships to Libya coastal waters to intercpt human smugglers and weapons bound for Isis fighters." The Mediterranean already has four Royal Navy ships, but Cameron wants to send in a fifth ship. Other British officials believe the EU must do more:
Tim Farron, leader of the UK's Liberal Democrats, said the EU had to do more to tackle the migrant and refugee challenge before people risked the journey by boat.

"The European Union, including our own UK government, must wake up to the reality of what we are facing: large-scale movements of people fleeing conflict, persecution, poverty, lack of opportunity and poor governance in their home countries, and seeking safe havens and economic opportunities in Europe," he said.

"Policing the Mediterranean, while vital to save lives, is simply not a long-term solution."
[Featured image via YouTube]