Posted by
Fuzzy Slippers
Monday, May 16, 2016 at 8:30am
| 5/16/2016 - 8:30am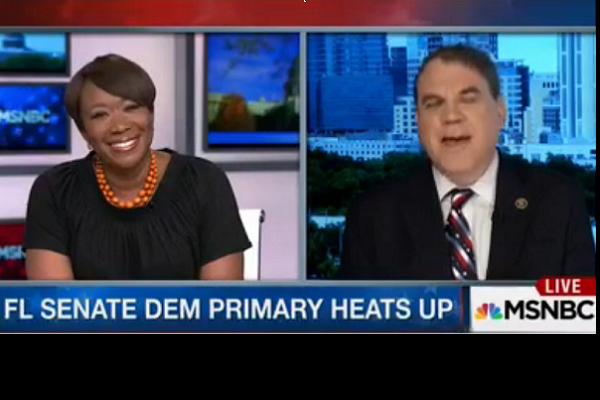 Following his massive cat fight redux with Harry Reid, Alan Grayson appeared on MSNBC and . . . things didn't go well.
In a combative interview this morning, Democratic Senate candidate and current U.S. Rep. Alan Grayson accused MSNBC host Joy Reid of "smearing" him and "spreading lies" about him in relation to a congressional ethics investigation over a once-offshore hedge fund associated with the Orlando congressman.

Reid initially wanted to ask Grayson about his confrontation with Senate Majority Leader Harry Reid this week, but almost immediately after she started speaking, Grayson interjected.

He started talking over Joy Reid and demanded she "correct the record" in describing the status of the ethics probe.


Grayson contends the investigation is over because an investigative subcommittee wasn't formed. He notes that no sanctions have "ever" been brought without such a committee being created.
In April, the Office of Congressional Records issued a release that flagged several potential violations of federal law, and the release recommended that the Congressional Ethics Committee continue the investigation.
As the Tampa Bay Times report and as Joy Reid attempted to point out, the investigation does remain open.  Grayson, however, is adamant that doesn't mean anything because no subcommittee to continue the investigation has yet been formed by the Ethics Committee.
Things went downhill from there.
The Tampa Bay Times continues:
After the rocky start to the MSNBC interview, Reid attempted to move the interview along with further questions about the investigation's findings, such as a marketing document that bears Grayson's name, photo and credentials.

But that only made the exchange more explosive.

"So what? If you Google my name, you'll see a lot of pictures of me," Grayson said. "That doesn't mean I created those pictures."

"You are completely misinformed and you're spreading lies," Grayson continued, adding: "Why do you feel compelled to spread these lies?"

Reid fired back: "I feel compelled to read from a 74-page ethics report, which is, sir, about you."
Watch the full interview: