Posted by
William A. Jacobson
Saturday, April 9, 2016 at 4:35pm
| 4/9/2016 - 4:35pm
Liberal paper will only help Trump, and hurt conservatives fighting Trump.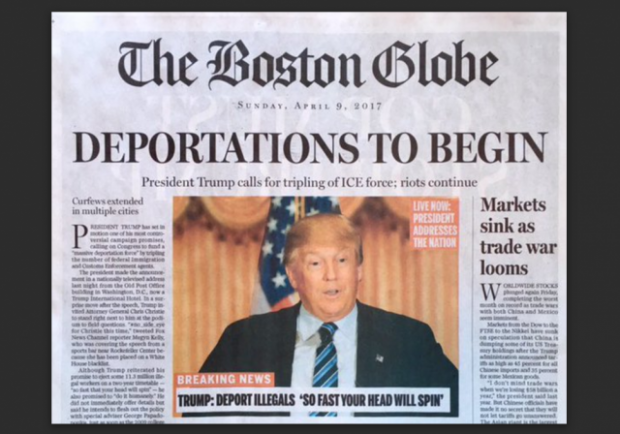 The Boston Globe published a curious tweet yesterday, warning of a front page it "hope[d] never to publish."
The front page we hope to never publish, unveiled this Sunday. Via @GlobeOpinion pic.twitter.com/EluP0GHi5T

— The Boston Globe (@BostonGlobe) April 8, 2016
Drudge has obtained images of what purports to be the Sunday front page, plus some:
EXCLUSIVE: BOSTON GLOBE set to publish fake news, in lampoon Trump edition of Sunday paper.. https://t.co/XH3TJzRMiU pic.twitter.com/1R8BhTmH3P

— MATT DRUDGE (@DRUDGE) April 9, 2016
Ladies and gentlemen, we are living through history… pic.twitter.com/A56KmNOY4g

— MATT DRUDGE (@DRUDGE) April 9, 2016
Prediction:
Assuming The Globe runs this, it will not hurt Trump.
Instead, it hurt conservatives who have serious concerns about Trump and are fighting to keep him from the nomination based on conservative principles, but who now will be lumped in with the anti-Trump left.
Thanks for nothing, Boston Globe.