Posted by
William A. Jacobson
Friday, March 4, 2016 at 12:22pm
| 3/4/2016 - 12:22pm
Feeling the heat, or demonstrating that he doesn't need conservatives?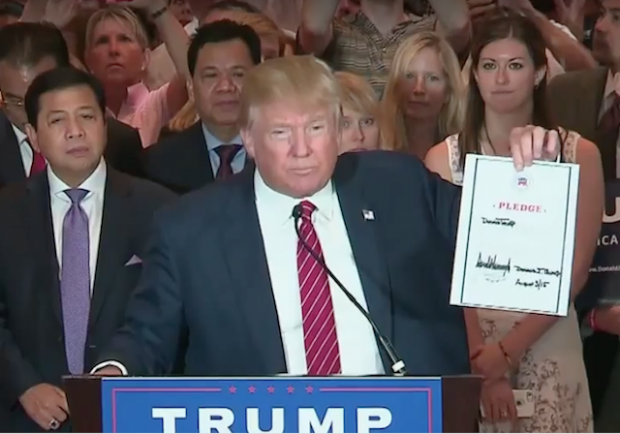 One has to wonder if the increasing conservative attacks are the reason why Donald Trump dropped out of his CPAC appearance at the last minute.
At least the Twitter chatter I've seen the past day from people at the conference was pretty hostile. And let's face it, Ted Cruz took him to the cleaners last night at the debate on conservative issues.
Perhaps Trump didn't want the optics of a large crowd (I've been in that ballroom, it's Yuge) booing him. Or maybe he's just proving that he's bigger than the conservative movement, and doesn't need it.
Very disappointed @realDonaldTrump has decided at the last minute to drop out of #CPAC — his choice sends a clear message to conservatives.

— CPAC (@CPAC) March 4, 2016
(added) Politico reports:
The Trump campaign released a statement to reporters announcing that it would be in "Witchita, Kanasas [sic] for a major rally on Saturday prior to Caucus."

"He will also be speaking at the Kansas Caucus and then departing for Orlando, Florida and a crowd of approximately 20,000 people or more," the campaign said. "Because of this, he will not be able to speak at CPAC as he has done for many consecutive years."

"Mr. Trump would like to thank [American Conservative Union Chairman] Matt Schlapp and all of the executives at CPAC and looks forward to returning to next year, hopefully as President of the United States," the statement continued.
I met quite a few Trump fans at CPAC. But I think the image of him being booed in a half empty room would have been worse than this story.

— daveweigel (@daveweigel) March 4, 2016
Trump skipping CPAC to visit "Witchita" pic.twitter.com/1JqB3uWZay

— Ryan Lovelace (@LovelaceRyanD) March 4, 2016
Dumb of Trump to schedule CPAC and cancel, but going to Kansas for the caucus and Florida for a rally is an exponentialy better use of time

— Dan Pfeiffer (@danpfeiffer) March 4, 2016
Donald Trump drops out of CPAC at the last-minute after anti-Trump forces threatened to protest. https://t.co/8pQozbMN3G

— Clare Foran (@ckmarie) March 4, 2016
Reportedly a big walk-out was being planned for Trump's CPAC speech on Saturday https://t.co/htYrFbErLE

— William Gallo (@GalloVOA) March 4, 2016
Of course Trump is skipping CPAC. He doesn't want or need them, they need him – and don't want him.

— Mike Rothschild (@rothschildmd) March 4, 2016
There's another reason Trump may be pulling out: There is likely to be a pretty bad story coming about him soon…

— Liz Mair (@LizMair) March 4, 2016
As to what the story is, no, it's not something I shopped. Just something I was contacted for comment about. Assume it breaks later today.

— Liz Mair (@LizMair) March 4, 2016
PREDICTION: not the last time @realdonaldtrump will abandon conservatives

MT"Trump drops out of #CPAC
sends clear message to conservatives"

— Ben Sasse (@BenSasse) March 4, 2016